Coalition will sharpen PS razor
The Coalition will hit the public service with a bigger efficiency dividend if elected on Saturday, ripping another $428 million from departmental budgets.
The new cuts, on top of the opposition's plan to axe 12,000 public service jobs, were announced on Thursday as part of the Coalition's long-awaited policy costings.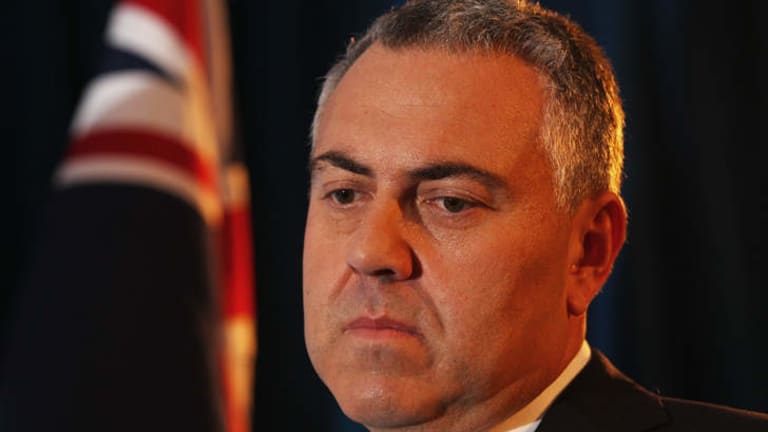 The savings plan also includes caps on public sector consultancies, advertising and travel.
The cuts are additional to Labor's increased efficiency dividend, which demands most departments and agencies strip 2.25 per cent from their annual budgets
The dividend will rise to 2.5 per cent from the 2013-2014 financial year, if Tony Abbott prevails on Saturday. Shadow Treasurer Joe Hockey also warned on Thursday that the public service would be squarely in the sights of a ''commission of audit'' that will be formed as one of the first acts of an incoming Coalition government.
The package, which has been subjected to the Parliamentary Budget Office process, also contains a plan to cut $4.5 billion from the foreign aid budget in the four-year forward estimates period and $650 million from the Murray Darling water buyback scheme.
The opposition also announced $11.5 billion of, mostly roads, infrastructure projects, partly offset by dumping nearly $7 billion in Labor building works.
In other news for Canberra, the Coalition says it will save $45 million over four years from the reduction of the former Department of Climate Change and $42 million from scrapping the trial of pre-commitment technology in poker machines.
Mr Hockey announced a package of $9 billion in savings on Thursday, saying it took to $42 billion the amount of savings it is claiming, including ''modest adjustments'' of $2 billion of interest saved on reduced debt.
The savings would trim the bottom line of the $400 billion annual federal budget by $6 billion over four years in response to what the Coalition has consistently claimed is a ''budget crisis''.
The costings were signed off by a three-man panel of former Department of the Prime Minister and Cabinet boss Peter Shergold, former Queensland Auditor General Len Scanlan and former Treasury official Geoff Carmody. The Coalition costings document from the Parliamentary Budget Office will not be provided for public scrutiny.
Mr Hockey's announcement was immediately dismissed as a ''farce'' by Deputy Prime Minister Anthony Albanese. He said Labor's increases to the efficiency dividend had been calculated to be ''as much as the service can bear,'' and that Coalition plans for further increases were irresponsible.
Launching his costings in Melbourne, Mr Hockey foreshadowed even more pain for the public service through a commission of audit and singled out Canberra for particular attention.
''The commission of audit is going to focus on getting rid of the waste and having a more efficient public sector in Canberra,'' he said.
''We have been able to identify projects like $160,000 in examinations of sexuality and Islamic interpretations of reproductive health technology in Egypt.
''I don't see that as a good spend of Australian taxpayers' money. We have to get rid of the waste, have a more efficient public sector.''
According to the Coalition's documents the new efficiency dividend is a ''modest'' saving delivering ''$428 million through prudent limitations on government advertising and consultancies as well as on government travel''.
The public sector union CPSU immediately hit out at the announcement, saying the new efficiency dividend, combined with Labor's increase in July, could cost an extra 6250 public service jobs.
The union's national secretary, Nadine Flood, said big cuts to the public service workforce must inevitably result in reduced levels of frontline services. ''This will knock services around the country for a six,'' Ms Flood said. ''Centrelink queues will get longer, there'll be fewer people inspecting at Quarantine, and fewer people checking the weather at the Bureau of Meteorology. You name it, it'll be hit.''

Noel Towell is State Political Editor for The Age
Morning & Afternoon Newsletter
Delivered Mon–Fri.