'Confected calamity': Glyn Davis disputes claims of growing threat to free speech at universities
Leading academic Glyn Davis has disputed claims that free speech and academic inquiry are under threat on university campuses, labelling the issue a "confected calamity" that is ideologically driven, imported from the United States and not backed by Australian examples.
As concerns grow that the freedom of academics and students is being undermined — with a Morrison government-initiated review now under way — Professor Davis said criticism had been "loud and very widely acknowledged" but argued there was no evidence of a severe problem.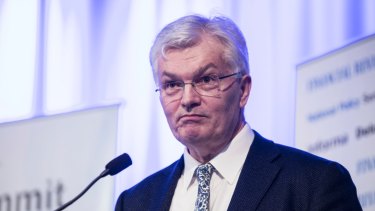 "Claims of a crisis require evidence. Crisis means trends that can be measured. Frequent examples that demonstrate consistent worrying behaviour, proof of an organised assault on the underlying principles of public universities — these are all conspicuously absent," the former vice-chancellor of the University of Melbourne said in a speech in Canberra on Tuesday.
Opening a summit on academic autonomy and free speech at the Australian National University, where he is now a professor, Professor Davis acknowledged "exceedingly rare" incidents and that universities had been caught flat-footed by the debate.
Education Minister Dan Tehan has advocated a code of conduct similar to one adopted at the University of Chicago and other US institutions that seeks to protect freedom of expression as paramount.
Questioning research from the Institute of Public Affairs, a think tank that has driven much of the debate, Professor Davis suggested the Australian debate was a "direct lift" from the US, where he said conservative activists were seeking to reshape universities and take on a perceived liberal bias.
He said advocates needed "outrages" to make their case for federal government intervention so they drew on US examples because of "incredibly thin" Australian material. He pointed to a 2017 report from the IPA that found five confrontations with speakers on Australian campuses and one withdrawn invitation over a three-year period.
"These seem to me remarkably small numbers for a crisis," he said, rejecting calls for federal government intervention as a solution looking for a problem.
"The demand for Chicago-type free speech codes to address imaginary challenges reflects, in my view, the gravitational pull of American conservative thinking."
Addressing a controversy about student protests against commentator Bettina Arndt's appearances on campuses, Professor Davis observed that Arndt was permitted to speak, her comments were publicised, and the universities picked up the costs to protect her rights and those of the protesters. He did condemn the protesters' aggression and refusal to engage in respectful discussion with Arndt.
Professor Davis also played down concerns about Chinese international students intimidating academics into changing their course material when it doesn't comply with the Chinese Communist Party propaganda.
He said there were real dangers for academic freedom and autonomy in Australia that should receive greater attention.
"The funding policies that make universities dependant on international students and donors; new security laws that circumscribe areas of acceptable research; decisions to override safeguards designed to make research funding decisions transparent and not political," he said.
"These are the challenges to institutional autonomy and campus freedoms we should discuss, not some confected calamity."
He also said that a university's rejection of philanthropic funding — as seen with the ANU's rejection of a Western studies program funded by the Ramsay Centre — "is no affront to free speech".
Fergus Hunter is an education and communications reporter for The Sydney Morning Herald and The Age.