One of Australia's most respected economists has added his voice to criticism of the government's decision to send Treasury secretary Martin Parkinson on his way.
As Prime Minister Tony Abbott hit back on Thursday at criticism of his decision to let Dr Parkinson go, Professor Ross Garnaut told Fairfax Media that Dr Parkinson was ''a fine secretary for the Treasury'' and that the Treasury had served Australia's leaders well for decades ''from all parts of the political spectrum''.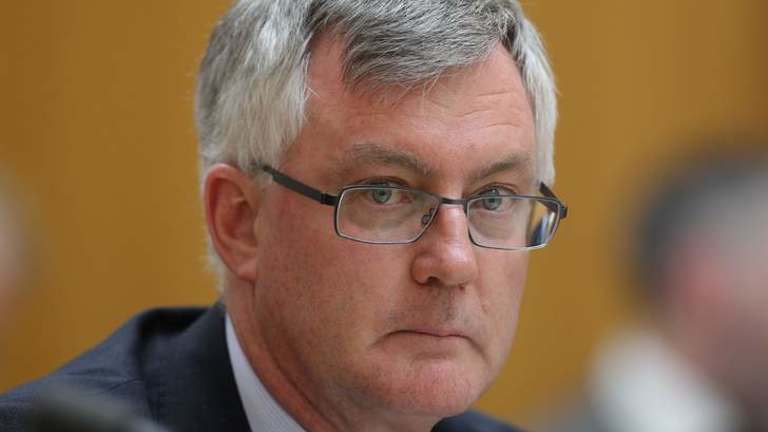 The comments came as Mr Abbott made clear his government had the right to ''stamp its authority'' on the nation's premier economic agency.
The Prime Minister also criticised economic policy under the ''high-taxing, high-regulating'' former government, in which Dr Parkinson played a central role. He said he wanted ''everyone in the system'' to be work enthusiastically ''as we reshape our country''.
''You've got to understand that incoming governments do very much want to place their stamp on the economic policy of the country, and that is exactly what we are doing,'' Mr Abbott said on Thursday.
''We are placing our stamp on the economic policy of the country, and let there be no doubt, let there be no doubt, that Australia's policy direction changed very substantially back in September of last year.''
Fairfax Media revealed this week that former prime minister John Howard and former treasurer Peter Costello had urged Treasurer Joe Hockey - in the weeks before the September 7 election - to keep Dr Parkinson in one of the nation's top economic roles. But that call was ignored by Mr Abbott, who announced Dr Parkinson's resignation in his first official act as Prime Minister after being sworn in.
Dr Parkinson's decision to leave was widely interpreted as a decision to jump before he was pushed. But some members of the Coalition are becoming increasingly uncomfortable about the decision to let him go.
Professor Garnaut told Fairfax Media that the federal Treasury has been a critical element of the independent centre of the Australian polity for decades, and Dr Parkinson had been a fine leader in that tradition.
His comments follow those of the former Treasury secretary Ken Henry, who told the ABC's 7.30 program this week that no previous government had thought it appropriate to remove the head of Treasury for political reasons.
''It's never happened in the Treasury in 114 years, 113 years,'' Dr Henry said. ''There have only been 16 Treasury secretaries in that time. No government has ever thought it appropriate to remove the head of the Treasury and put in somebody who they think is of the right - let's say of a more comfortable political character.
''I'm not saying that is what has motivated the Prime Minister on this occasion. It sounds like that, though.''
Former Treasury staff contacted by Fairfax Media on Thursday agreed with Dr Henry that it would be unprecedented for a Prime Minister to remove a secretary of the Treasury for political reasons.
Dr Henry said the departure of Dr Parkinson - due mid-year, although speculation is mounting that he could now stay on until the end of the year - was unprecedented.