Employment Minister Eric Abetz says the "dark secrets" of trade union slush funds will be exposed during the royal commission and suggests Labor leader Bill Shorten may have questions to answer about the Australian Workers Unions slush fund affair.
Senator Abetz has also suggested former prime minister Julia Gillard may have to front the commission, which began last week, given her role in helping former boyfriend Bruce Wilson establish the AWU Workplace Reform Association fund in the mid-1990s.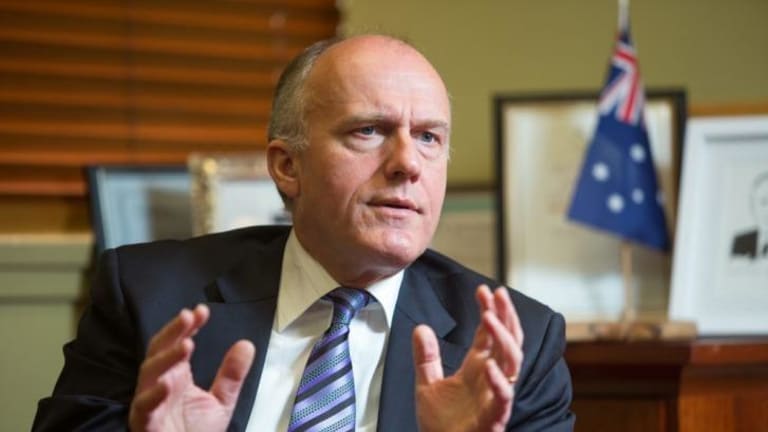 The fund was established to promote workplace safety and received money from companies such as construction giant Thiess, but some of the money was used to buy a house in the Melbourne suburb of Fitzroy for Mr Wilson to use. Ms Gillard provided legal advice to help establish the fund but has denied any wrong-doing.
Senator Abetz said that Mr Shorten, who was the AWU's Victorian secretary from 1998 to 2006 and national secretary from 2001 to 2007, might have done more when at the union to investigate the matter.
"I would have thought that there are a lot of questions as to whether or not Mr Shorten should have done more when he took over the Australian Workers Union to find out where those hundreds of thousands of dollars allegedly disappeared to,'' he told the Ten Network.
"They are questions for Mr Shorten, but at the end of the day the royal commission will determine what tracks to go down to ascertain which witnesses may be able to provide material evidence to assist the royal commission.
"The dark secrets of the slush funds of the trade union movement that have often gone to assist people in their pre-selections, internal Labor ballots, these things may well come to light in the royal commission."
Senator Abetz said Ms Gillard clearly had something to say about the slush fund affair, but the royal commission would decide whether she was called to give evidence.
"Ms Gillard was there as a player, drawing up the power of attorney, having her fingers in the conveyancing file, and setting up the rules for this Australian Workers Union slush fund,'' he said.
The minister also said that former Labor minister and ACTU chief Martin Ferguson's recent offer to appear before the commission with evidence would not have been made "if he was just going to be talking about the weather".
"That a former ACTU president is now willing to step forward, indicating that he might have material evidence, shows the absolute need for this royal commission. And one just wonders why Bill Shorten and the current ACTU leadership are still in denial about the importance and need for this royal commission," Senator Abetz said.

James Massola is south-east Asia correspondent, based in Jakarta. He was previously chief political correspondent for The Sydney Morning Herald and The Age, based in Canberra. He has been a Walkley and Quills finalist on three occasions.
Morning & Afternoon Newsletter
Delivered Mon–Fri.