David Feeney's cavalier approach to politics and process may be about to end his career and Labor's hold on one of its historically safest seats.
Just 18 months after Liberal preferences allowed Feeney to defend his seat of Batman by a whisker from the rampaging Greens, Labor faces the unwelcome possibility of a byelection in a seat he won in July 2016 with just over 51 per cent of the two-party preferred vote.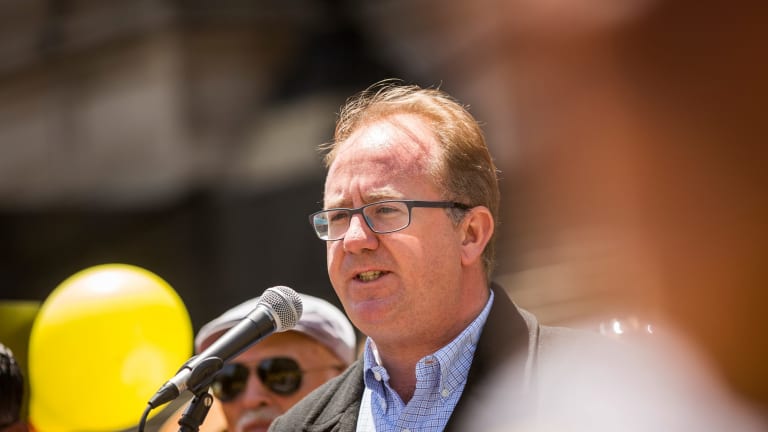 It would come in the wake of Victorian Labor's thrashing at the hands of the Greens in the Northcote byelection, the state seat that takes in a good part of Feeney's federal electorate.
Pollsters, Labor strategists and journalists were stunned by the 11 per cent swing against Labor, a swing boosted by the Liberals' decision not to run a candidate in the Northcote race.
Liberal president Michael Kroger has already flagged the possibility of staying out of contests in old Labor territory across the north and west of Melbourne. That way Labor and the Greens expend energy and resources fighting each other, freeing the conservatives to focus on the main game in swing seats in eastern and southern electorates.
If Kroger follows through with this threat, Labor is finished in Batman, the seat once held by big ALP names including former deputy prime minister Brian Howe.
Truth be known, Feeney was lucky to get a chance to contest Batman in the first place. It is traditionally a seat held by the left faction. Feeney, part of the Labor right, first won Batman at the 2013 election, but only after then prime minister Julia Gillard intervened to ensure his preselection as part of a move to shore up her own factional support.
Feeney is no certainty to get the nod for another tilt at Batman. The party may demand the seat back from a struggling MP with a dwindling factional base.
Formerly one of Bill Shorten's closest political allies, years of sub-factional wrangling has put distance between them. And where Shorten has risen to the party's top job, Feeney has not made a major mark in Canberra.
In the run-up to the 2016 poll, he suffered a near fatal body blow when, amid growing community anger over housing affordability, it was revealed he had failed to disclose in the parliamentary register of interests his $2.3 million home in Northcote.
It was a remarkable mistake that played directly into the hands of the Greens and alienated many in a fast gentrifying area where many left-leaning voters are paying huge rents.
Now Feeney's similarly sloppy handling of his possible British citizenship may well continue the downward trajectory of his political career at the very time his old mate Shorten is in with a real chance of becoming the next Australian prime minister.
Royce Millar is an investigative journalist with a special interest in public policy and government decision-making.
Morning & Afternoon Newsletter
Delivered Mon–Fri.