The Labor government is five years old this weekend. Can you believe it? Five whole years! If it was a human, it would be going to school right about now. Putting on its first uniform. Taking its place proudly alongside the big kids in assembly.
It seems like such a long, long time ago, 2007. We're talking pre-Obama, pre-financial crisis, pre-Angry Birds. Even pre-Pippa Middleton's bum. Back then, the Iraq War was raging and the term ''app'' was just shorthand for apparently. Then, on November 24, a man from Queensland called Kevin came to help. They were heady times. Looking at the (old-fashioned, hard copy) photos of the election night party I went to, people were smoking cigars.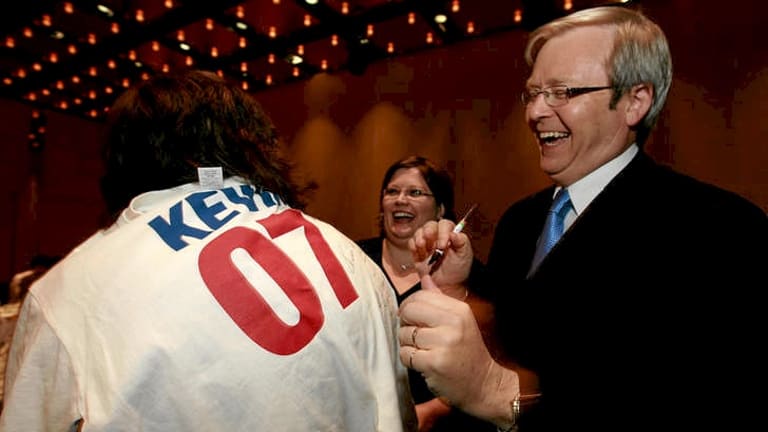 Amid his talk of Iced VoVos, Rudd sure offered some temptingly hope-filled words to the country.
''Today, Australia has looked to the future. Today, the Australian people have decided … to unite and write a new page in our nation's history,'' he said as he claimed victory.
Over the past half-decade, it's fair to say whole new chapters have been penned.
From nation-affirming highs (the apology to the stolen generations), to what-were-they-thinking-lows (ditching the carbon tax, then bringing it back again), and episodes of extreme noggin-scratching in between (the 2020 Summit).
We've had scandals of the ute, Thomson and Slipper varieties. Three opposition leaders and two prime ministers. Did anyone mention there was a ''leadership transition'' in mid-2010?
Things no reasonable person would ever have predicted have actually happened. Bob Carr came back. Bob Brown quit. And as of the end of November 2012, Julia Gillard is still the Prime Minister.
Despite murmurings she shouldn't get too comfortable in the prime ministerial office suite (don't unpack), Gillard narrowly survived the 2010 election. Then she survived a challenge from Rudd and months of instability either side of it. And she has kept that minority government cobbled together.
Tony Abbott has also been a surprise survivor. When he beat Malcolm Turnbull by one vote everyone said the Mad Monk was too mad to be Opposition Leader. And too monkish. He'd do something undisciplined and self-destruct. That was three years ago next week.
Indeed, if the first half of the Labor years were marked by people's surprise departures from leadership positions, the second half has been characterised by their surprise staying puts.
Not that we haven't yearned for it to be otherwise. The opinion polls have consistently pointed out that not only are people unhappy with both leaders, they would prefer their predecessors.
Cue: huge excitement that Rudd and Turnbull were appearing together on Q&A this week. During the show, one audience member tremulously asked what the whole nation was apparently thinking: why don't you two team up and start a new party that could ''open a new chapter in politics in Australia?'' The next question was ''what chance do we have of a mouth-watering election of Mr Rudd versus Mr Turnbull next year?'' The two are like political catnip. If they so much as wink, or nudge in the public's direction, we swoon. It's as if the former leaders - despite being responsible for some of the recent chapters - hold the answer to our political woes. Underlying the argument that we should reheat Rudd and Turnbull (I just can't bring myself to say ''Ruddbull'' … Brad and Angelina they are not) is the idea that the current situation is somehow undemocratic. Like the public voice is being ignored.
But this notion forgets that there is a well-established process for electing our political leaders. That, and when Rudd and Turnbull were respectively booted out, they were really quite unpopular (both in and outside their parties).
The idolisation of the two today says much about the grass is greenerness of politics right now.
With plenty of problems to choose from (the asylum seeker situation would be farcical if actual human lives weren't involved) and an uninspired and snarky political debate, it's not surprising people are wondering what might have been. Or what could be.
But Rudd and Turnbull are the perfect canvases on which to project our hopes and aspirations. They can promise all the bright futures and useful ideas they want and not have to deliver on any of it - Turnbull from the confines of a shadow portfolio and Rudd from the safety of the backbench. Gillard, and to a lesser extent Abbott, are inherently less hopeful because we see them in action every day. Wading through the motions. Trying to deliver solutions and being held accountable for what they've done (or not). In looking back over the past five years, we should be wary about thinking that things have changed too much (the advent of Angry Birds notwithstanding). That's not to suggest past leaders can't learn from their mistakes. But they don't get magical powers in the process.
Judith Ireland is a Canberra Times journalist.
Morning & Afternoon Newsletter
Delivered Mon–Fri.