It is among the cheaper plays in the book of expedient governing: Hit foreign aid.
It was a lever pulled in the Abbott government's first budget and apparently someone influential wants to give it another hearty yank this time around.
Julie Bishop, though, is having none of it.
The exasperation on the Foreign Minister's face on Monday spoke more clearly than a thousand angry words.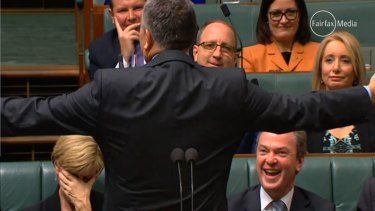 Her visual disdain – directed at Treasurer Joe Hockey who was lauding the razor gang in Parliament - followed the chief diplomat's ice-cold public response to a newspaper suggestion of another aid cut in May.
First, no minister likes hearing about their portfolio via public media. And second, that particular story, Bishop's supporters believed, had been surgically placed with a reporter known for his authoritative links to the senior-most levels of the Abbott government.
Was this payback for the recent leadership instability in which the Abbott-Hockey forces believed Bishop had been positioning? Was she now to be punished through the budget for providing the bare-minimum of support for Tony Abbott as his deputy?
While Finance Minister Mathias Cormann quickly intervened to hose down the new threat to aid funding, Bishop forces remain on guard. Suspicions are running high over why the cut was flagged the way it was and where it was. The stoush is the latest example of how the power struggle at the top of the government is infecting internal relations and policy alike.
Electorally, clipping the aid ticket is low risk for governments.
The unspoken justification is that there are no losers – not ones who can vote here anyway. And as far as Australians are concerned, most either don't care enough to change their vote over aid, or even resent billions of Australian taxpayers' dollars being sent to foreign lands.
Nonetheless, the major parties have largely eschewed the populist low-road on foreign aid, preferring instead to maintain broad bipartisanship.
Last year, Bishop did her bit for the budget, skilfully steering through significant cuts to foreign aid with the minimum of controversy.
Aid was capped at $5 billion annually for two years and set to grow after that more slowly via inflation-based indexation.
In total, some $11 billion has been carved out of the projected but unfunded future aid budget setting the previously bipartisan commitment of aid equalling 0.5 per cent of gross national income on its heels. A Labor government commitment to achieve 0.7 per cent as per the Millennium Development Goals by this year had already become a pipe-dream.
Mark Kenny is the national affairs editor for the Sydney Morning Herald and The Age, based at Parliament House