David Fricker loves the visceral charge someone feels finding a nugget of information about their family from the tonnes of paper or millions of digitised pages of records stored by the National Archives of Australia.
''If you find out what your grandfather did in World War One or how your mother arrived in this country and under what circumstances, it's a very deeply emotional experience for people. And to be able to do that for people, to have that emotional connection to the past, I find it immensely motivating,'' he says.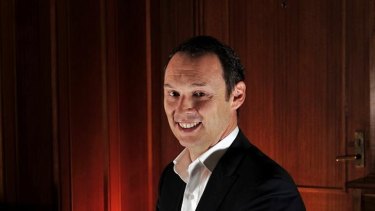 Fricker is the new director-general of the archives, coming to the role, he believes, at a critical moment when people are increasingly curious about their own personal history and also eager to make sense of Australia and its place in the world.
The archives is, at the same time, facing the challenge of wrangling the ever-increasing amount of digital information being produced by government departments and agencies.
And then there's also the opportunities being presented by new technology to make that information more available to the public, ''to bring those stories to life''.
Added to that are important upcoming anniversaries - the centenary of Canberra next year and the Gallipoli landings in 2015 - that are sure to spark more interest in Australia's past.
All up, Fricker feels the archives is at an important crossroads.
''We're just starting to imagine what the possibilities really are,'' he says.
Fricker, a youthful-looking 53-year-old, (his birthday was yesterday), replaces Ross Gibbs who was director-general for eight years and acting director Stephen Ellis who held the post for 10 months following Gibbs' departure. It is a five-year appointment.
The archives' job is to collect and preserve government records that reflect Australia's history and identity and contribute to an accountable democracy. But the fact 75 per cent of inquiries to it are from people researching their own family history confirms it is as much about the personal as the political.
And the amount of information it stores is staggering.
The archives has more than 50million items. The records take up almost 380,000 shelf metres. There are more than 23 million digitised pages now loaded to its collection database. Last financial year alone, almost five shelf kilometres of records were transferred from government agencies to the archives.
''Our raison d'etre is to make this stuff accessible. We don't collect it just for the love of collecting and keeping it in a room somewhere. None of that matters unless you make it accessible,'' Fricker says.
''Every country town has a war memorial, for example. I think it would be great if someone was standing in front of that memorial and looking at the names engraved in the stone and wondering what the full story is, they could reach for their smartphone and see some photographs or some video footage [from the archives]. That's really what I want to do, is bring this stuff to life for people.'' The gracious old building in Parkes that now houses the archives, once known as East Block, was the original Canberra post office but it also, at one stage, housed the Australian Security Intelligence Organisation.
That's fitting because Fricker's previous job was ASIO's deputy director-general of corporate and strategy.
He joined ASIO in 2002 in the wake of the September 11 terrorism attacks as its chief information officer, responsible for records and archives and setting up systems to allow the analysis of information.
With the world on terrorism alert, Fricker says it was a fraught but exhilarating time.
''It was a dark period in many ways knowing what we were up against but there was such a level of accomplishment, a focus of effort, which united originations globally around this common issue of counter-terrorism. It was an extraordinary period of my career,'' he says.
He became deputy-director in 2007 but says staying on to take the top job at ASIO wasn't a consideration.
''I loved my time at ASIO, it's a wonderful organisation made up of very impressive, fantastic people. But my career aspirations are broader than one agency,'' he says.
''What really motivates me is what we can do as national institutions, national agencies to deliver the best possible value for Australia through the resources the Government has. The opportunity here [at the archives] was just too great to overlook.''
Fricker is very much a product of Canberra, born in Sydney but moving here with his family in 1968 where they bought a block of land in Torrens ''out in the bush as it was then''.
''I feel like I've grown up with Canberra,'' he says
''I've seen it become a very sophisticated, cosmopolitan place. It's a lot more entrepreneurial, there's a lot more of a buzz around town.''
His father Lyall and mother Lourdes were both teachers. His father moved into administration and eventually became director-general of TAFE in his home state of South Australia.
Fricker has four siblings - Peter, a former director of the Australian Institute of Sport now working in sports medicine in Qatar; John, an orthodontist in Manuka, Richard who has a television production company in Sydney and Denise, an academic in Adelaide.
Fricker says if there was one thing his parents instilled in them all, it was the value of education.
''It's become my ethos as well, the best thing you can do for anybody, is educate them.''
Fricker attended the St Bede's and Red Hill primary schools, Marist College and Melrose High where he met his future wife, Spanish-born Paloma Lopez, now an education officer at the National Gallery of Australia. They have one son, Alex, 16.
Fricker says much of his youth was spent playing drums in Canberra band The Naturals in old-school venues such as The Floyd in Phillip - think a post-punk X-Ray Spex, Talking Heads, The Pretenders repertoire. He still likes to play the drums and the piano.
''A couple of Christmases ago I fooled everyone by saying I was buying a drum kit for Alex,'' he says, with a laugh.
Fricker did a computing studies degree at the old Canberra College of Advanced Education, predecessor to the University of Canberra. He joined the Australian Customs Service in 1979, moved into the private sector in 1987 and founded his consultancy company in 1993 working with federal government agencies including ASIO.
Fricker says there are similarities between his job at ASIO and the archives - understanding the value of information, establishing its provenance, finessing it into a coherent story.
''It's about knowledge,'' he says. ''It's about, 'What can I do to exploit the wealth of information in the archives to make that useful to people, to make it accessible to people?'. To help them make sense of the past and to shape the future.''
Megan Doherty is City Reporter