For a rare moment, Julia Gillard seemed almost lost for words. ''There is just a randomness to it,'' the Prime Minister said. ''It is hard to explain.''
Ms Gillard flew to Coonabarabran on Thursday to witness the effects of the fire that claimed at least 49 homes. But as she crossed the devastation, stopping to chat with locals, it was the mysterious ways of bushfires that made her pensive.
''I have been looking at some of the houses,'' she said, ''including ones that obviously had a huge firestorm behind them . . . Because of the wind, they have survived. You need to know a lot more about fire than I do to explain it.''
At a news conference, she announced support for those who had lost homes or been evacuated.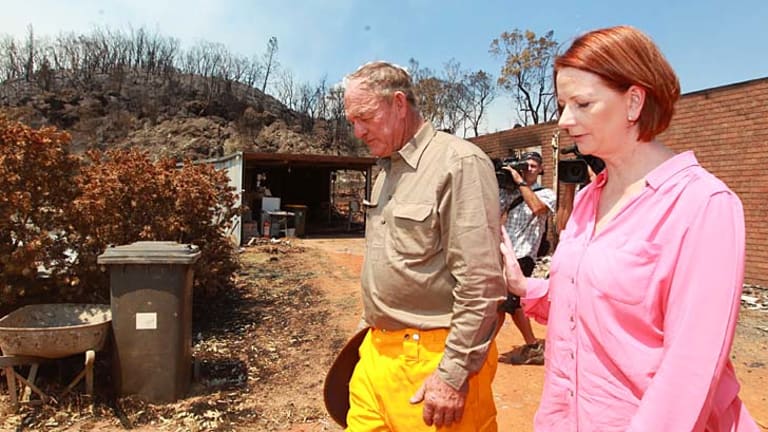 She drove through Timor Road in the Warrumbungle National Park, the centre of the inferno, which opened for the first time since the fire on Wednesday, for residents to see the extent of their losses.
Ms Gillard surveyed the charred countryside and blackened forests described by the Rural Fire Service as a ''moonscape''.
She saw the ruins of the home in which Bob and Jeanette Fenwick had raised four children. The Fenwicks also lost 33 cows and 250 sheep in the blaze.
Their property is in the valley below the Australian Astronomical Observatory where accommodation was destroyed, and which Ms Gillard also visited on Thursday.
Mr Fenwick told her that when he arrived at the property, there was no way to stop the flames.
''We couldn't do anything here,'' he said. ''It was over. It was so fast.''
''Unbelievable, really, isn't it?'' Ms Gillard replied, touching his arm. ''I was up at the [Siding Spring] observatory talking to people up there about how they looked out to see a narrow plume of smoke and then it's just - whoosh and they are leaving as quickly as they can with flames at the height of the observatory tower.
''It was an amazing firestorm . . . the fire has rightly been described as the perfect storm of fires.''
She announced a government disaster recovery fund that will pay $1000 to adults and $400 to children who have lost homes or been evacuated, as well as to those with immediate needs.
The Commissioner of the Rural Fire Service, Shane Fitzsimmons, said 84 fires were still burning in NSW, 14 of them not contained.
Morning & Afternoon Newsletter
Delivered Mon–Fri.