Greens launch ad blitz, accuse Labor, Libs of being out of touch
The social justice values of Australian voters have been targeted by the Greens in a new advertising blitz designed to paint the major parties as "out of step" with the community.
Asylum seekers, higher education, same-sex marriage and the environment are the central planks of the ad, which start on Monday and will screen over the next few weeks as the party's election battle for the inner city intensifies.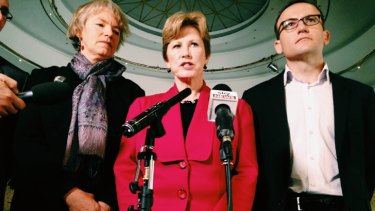 "If you stand for clean energy over climate change; if you stand for care, not cuts, for higher education; if you stand for love over an outdated law; if you stand for giving refuge to refugees, then you stand with us," the ad will tell viewers ahead of the September 7 poll.
With a new election slogan -"Stand Up For What Matters" - the ad was unveiled ahead of the Green's Victorian campaign launch at the Arts Centre on Saturday.
But the TV blitz comes at a critical time for the party, with its only lower house member - Melbourne MP Adam Bandt - facing an uphill battle to keep his seat without the benefit of Liberal preferences.
While a deal has not yet been locked in, it is widely expected that the Liberals will place the Greens behind Labor candidate Cath Bowtell, following the template set by Ted Baillieu at the Victorian election in 2010.
This would make it difficult for Mr Bandt, who three years ago achieved 36.2 per cent of the primary vote - less than Labor - but was catapulted into Parliament with the help of Liberal preferences.
But Mr Bandt said on Saturday that he remained confident. "We are aiming at this election to hold the seat of Melbourne in our own right," he said.
Greens leader Christine Milne said she was certain voters would stick with the Greens in Melbourne. "The old parties have been in a race to the bottom, and we are saying that we are standing on a different
The 31-second ad will hit television screens as the first week of the five-week election campaign draws to an end.
A Fairfax Media/Nielsen poll published today shows the Coalition has ended the week with a 52-48 per cent lead over Labor, while Prime Minister Kevin Rudd's approval rating has fallen sharply.