AN EMBOLDENED Julia Gillard has ended the political year convinced she has her opponent's measure and the public's confidence that she has the strength and grit ''to get this job done''.
''I don't think there would be too many Australians that doubt that I've got the personal fortitude to get this job done, no matter how hard it gets,'' the Prime Minister said after the last, and arguably most toxic, parliamentary sitting week of the year.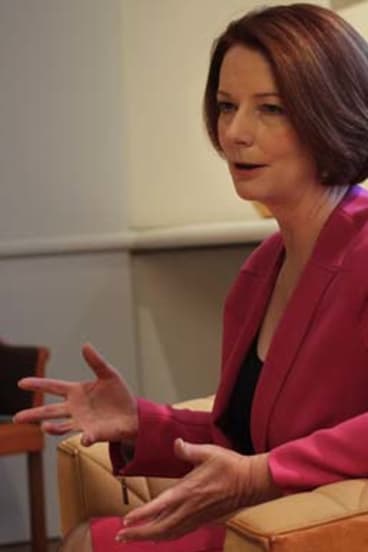 ''I've listened over a lot of years to a lot of lazy talk about Labor and how it's focus group-driven and spin-driven and all the rest of it,'' she said. ''Well, everybody can put that lazy talk in the waste bin where it belongs. We come out of this year as a political party driven by purpose to get things done for the Australian nation that will make a difference for the long term.''
Ms Gillard said that, in contrast, Opposition Leader Tony Abbott had finished the year ''hard-wired for negativity'', with no capacity to change strategy. ''He's the kind of person who always goes negative and always goes too far.''
Ms Gillard cited school reform, the National Disability Insurance Scheme and implementing the recommendations of the Asia Century white paper as her priorities for the election year, saying: ''You will see us in 2013 continue to design policies and plans that fit with those values and that strategy for the nation.'' But she refused to be drawn on whether the Commonwealth would meet the lion's share of the funding of school and disability reforms, insisting she was not going to negotiate with the states through media interviews.
Pressed on whether long-term funding plans on school and disability would be detailed in the May budget, she said only: ''Well, we've said consistently that people would be able to see how we were provisioning for NDIS and for school funding reform before the next election.''
She conceded that concerns were being expressed about conditions confronting asylum seekers on Nauru and on Papua New Guinea's Manus Island, but said the deterrent was needed to stop deaths at sea.
''Look, I think it would be an awful thing to end up in a detention centre, whether it's in Nauru, on Manus Island. … But we've got to get these policies right to get the deterrence message right - because worse than being in the detention centre on Nauru is having drowned at sea - and too many people have.''
Ms Gillard refused to be drawn on when the number of boat arrivals could be expected to slow, saying the government was working to implement the recommendations of the expert panel and deal with a rise in arrivals from Sri Lanka by returning hundreds who were deemed to be coming for economic reasons.
''You will continue to see us do that and to send the message very clearly to Sri Lankans that if you, you know, pay a lot of money to a people smuggler you are at risk that you are returned very quickly - people are being returned very quickly, indeed some have been returned in a matter of days.''
Ms Gillard said the biggest obstacle to implementing the Malaysian people-swap was not in Malaysia. ''The problem here is the situation in the Parliament and that the opposition - true to form - has gone negative on an issue of this importance to the nation.''
Morning & Afternoon Newsletter
Delivered Mon–Fri.