Former treasurer Joe Hockey was formally welcomed as Australia's ambassador to the United States overnight, presenting his credentials to President Barack Obama.
His Excellency Ambassador Joseph Benedict Hockey attended the Oval Office on Thursday afternoon local time along with representatives from New Zealand, Portugal, Djibouti, Saudi Arabia and 10 other countries.
The White House describes the ceremony as "the formal beginning of an ambassador's service in Washington".
Sharing a photo with his family in the Oval Office, Mr Hockey said he and President Obama had a "long chat" about the common interests of the two countries.
The tweet of the photo has attracted a large volume of responses - both positive and negative.
Neil Ford wrote: "Congratulations Joe, this must be an extremely proud moment, well done .You will be missed in Australia."
But there were many disparaging comments as well. Pete Murdoch wrote, accompanied by an image of Family Guy's bumbling father Peter Griffin: "And so begins the age of embarrassment".
Since arriving in the US capital to replace outgoing ambassador Kim Beazley, Mr Hockey has been actively tweeting about his exciting new experience, including selfies in the snow after the record-breaking blizzard that consumed the east coast.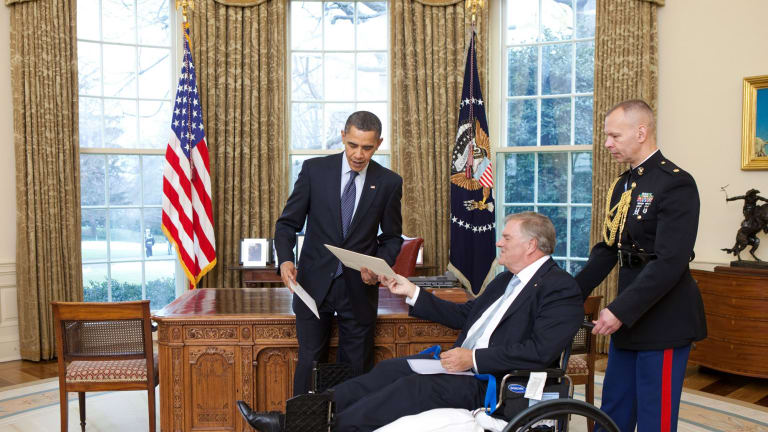 Mr Beazley has been widely praised for his six years in the important role, an era that saw the US institute a major "rebalance" to the Asia-Pacific and continue anti-terrorism operations in the Middle East.
Mr Hockey will enter the role as both countries seek to legislate the Trans-Pacific Partnership, a major trade deal between 12 countries, and combat extremist group Islamic State.
From January, he will be working with a new American administration as Barack Obama ends his eight years in office.
This could be headed by anyone from Democratic frontrunner and former secretary of state Hillary Clinton to billionaire Republican contender Donald Trump, whose rise has shocked many observers.
Prime Minister Malcolm Turnbull offered Mr Hockey the prized diplomatic posting after dumping him as treasurer following the September leadership spill.
The spill marked a low in the relationship between the two, with Mr Turnbull pointing to a lack of "economic leadership" as one of the main reasons for change.
Mr Hockey - whose time as the government's economic salesman was plagued by a controversial first budget and several verbal missteps - hit back on the night of the challenge, saying the claims were "completely unfounded" and accusing him of outrageous disloyalty.
In a 2014 biography, Mr Hockey's wife Melissa Babbage said that "Joe won't trust Malcolm again" after the 2009 leadership spill that saw Tony Abbott emerge victorious over both men.

Fergus Hunter is a political reporter for Fairfax Media, based in Parliament House.
Morning & Afternoon Newsletter
Delivered Mon–Fri.