A key crossbencher who will share the balance of power when the Senate changes over next week has hit out at the Abbott government ''bludgeon'' approach to securing support for the budget.
Democratic Labour Party senator John Madigan has warned senior ministers he won't engage in horse trading.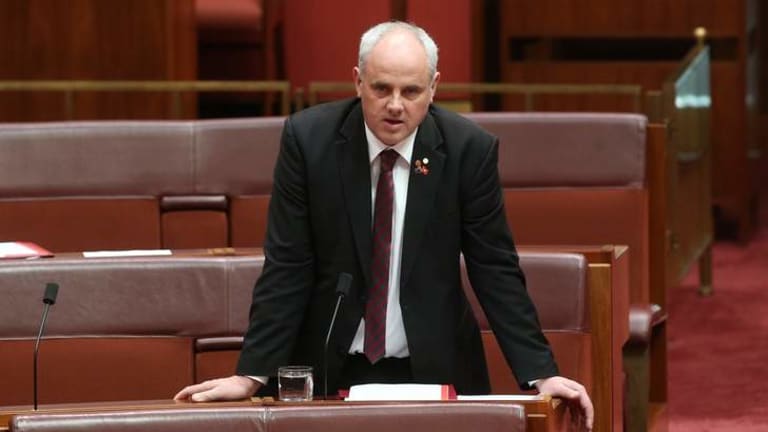 ''We won't be bludgeoned, we won't be hijacked, we won't be taken for fools,'' Senator Madigan told the Senate on Tuesday night.
His comments came after the Abbott government warned incoming senators that they may be kept in Canberra until the government gets the result it wants on repealing the carbon and mining taxes.
Coalition leader in the Senate, Eric Abetz, has written to the new crossbenchers flagging that the fortnight of sitting days from July 7 could be expanded to deal with its most important package of bills.
''I flag to you that to ensure passage of this legislation, the government may move to sit on additional days,'' the letter from Senator Abetz states.
One incoming senator said: ''The message seems to be that we will keep you voting until you get it right.''
The government has already injected an extra fortnight into Parliament's sitting schedule so that it can deal with Prime Minister Tony Abbott's ''pledge in blood'' to axe the carbon tax.
On Tuesday, the government gagged debate on the carbon tax repeal bills in order to rush them through the House of Representatives and have them considered by the Senate from July 7.
Incoming senators, who cannot pay staff until July 1, will also have to deliver inaugural speeches as well as understand the repeal legislation.
Senator Madigan called on the government to negotiate in good faith and to stop using families as punching bags.
''I won't be bludgeoned into selling out those people who can least afford cuts,'' Senator Madigan said.
He attacked the government's approach to budget negotiations and the impracticalities of expecting crossbenchers to deal with large volumes of bills at short notice.
He recently received four bills, totalling 650 pages.
''Let's have a meeting, let's sit down and discuss common ground more than just a couple of days out before we're expected to vote on legislation,'' he said.
The GP co-payment, plans to force young people off unemployment benefits for six months and university fee increases were among Senator Madigan's top concerns.
Independent Senator Nick Xenophon has also expressed concern at the government's approach, arguing the government had imposed an unreasonable time frame for such an important vote.
The government will need the support of six of the eight crossbenchers to get its budget measures through.
Meanwhile, Prime Minister Tony Abbott has indicated getting the budget passed through the Senate may take some time.
''We may not get it through the first time or even the second time but I think we will get it through,'' he told Sky News.
''I mean a lot of people have been talking about fairness, well I tell you there is nothing fair in saddling our children and our grandchildren with tens of thousands of dollars in Commonwealth debt – per head – that they have to help repay.''
He added that people can change their minds and ''in some cases yeses will become nos and if yeses can become nos – nos can become yeses''.
''We have come up with our plan; I think it is a good plan, a fair plan. I think it is a doable plan and in the absence of any suggestions from anyone else – it is the only plan.''
Morning & Afternoon Newsletter
Delivered Mon–Fri.