Julie Bishop's "sensationalised" eye roll was exactly the type of response Treasurer Joe Hockey was inviting during his praise of the budget razor gang, according to Communications Minister Malcolm Turnbull.
Mr Turnbull on Tuesday said never before had there been "an optical movement more sensationalised" and it was nothing more than what Mr Hockey would have expected.
Ms Bishop's burst of expression occurred when Mr Hockey praised the late former prime minister Malcolm Fraser for starting the expenditure review committee, the sub-grouping of cabinet that runs the budget.
"We will be forever thankful," Mr Hockey said, cheerfully.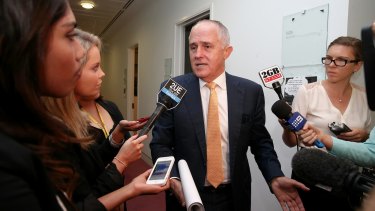 "That committee has endured, much to the chagrin of my colleagues, but it has endured."
It prompted Ms Bishop to roll her eyes, shake her head, mutter under her breath, put her head in her hands and raise her eyebrows.
Asked for her thoughts on her reaction, Ms Bishop told reporters on Monday night she would "keep those to myself".
"The mention of the expenditure review committee can have a different impact on different people," she said.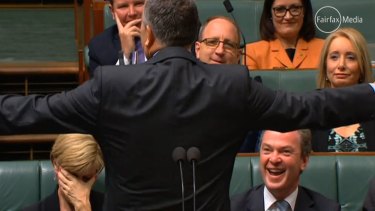 The deputy Liberal leader's response was widely seen as a sign of the tensions that exist at cabinet level and came after she vowed to take up with Mr Hockey an unsourced report suggesting the foreign aid budget could be cut further.
"There has never been an optical movement more sensationalised than Julie Bishop's eye roll," Mr Turnbull told reporters on Tuesday.
Mr Turnbull, a close friend of Ms Bishop, said Mr Hockey was engaging in some black humour by lauding the "hated and despised" razor gang process.
"Joe was in a bleak kind of way being humorous - he was inviting people to roll their eyes, grimace, groan, so Julie was responding in exactly the way he wanted her to," Mr Turnbull told the ABC.
He is safe in the bosom of the party that supports him with one hundred per cent loyalty
Junior minister Jamie Briggs, a close friend and political ally of Mr Hockey, said: "Well, as some of you know, I live with Joe Hockey here in Canberra and I often have the occasion to roll my eyes."
Mr Turnbull and Ms Bishop are both considered undeclared leadership rivals to Mr Abbott should there be another leadership battle.
But Mr Turnbull said improved polling released by Newspoll on Tuesday showed Tony Abbott's leadership was safe.
"He is safe in the bosom of the party that supports him with 100 per cent loyalty, " he said.
Earlier, Mr Turnbull said the government's improved standing in the polls was because voters were taking a closer look at Opposition Leader Bill Shorten.
This was echoed by Mr Briggs who told reporters, "I think what you're seeing today in some poll results that have been released is that people are starting to have a good look at Mr Shorten and they just don't like what they see."
Latika Bourke is a journalist for The Sydney Morning Herald and The Age, based in London.