Foreign Minister Julie Bishop plans to confront Treasurer Joe Hockey about an unsourced newspaper article that reported the foreign aid budget may be further cut in the May budget.
News Corp reported on Monday that the foreign aid budget, which has sustained $11 billion in cuts since the Coalition came to power in 2013, could be cut further in May when the Coalition's second budget is due.
Ms Bishop said the newspaper report was the first she had heard of the idea.
"I'll certainly be taking that up with the Treasurer to find the source of that story," Ms Bishop told the ABC.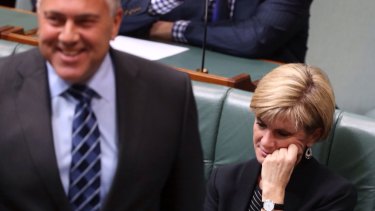 Speaking a short time later at the launch of a new aid delivery program, Ms Bishop said as far as she was aware, the aid budget will continue in its [current] form".
"We haven't even been through the [expenditure review committee process] just yet, so expenditure review must go through its processes and then we'll be in a position to confirm what the aid budget will be for 2015/16," she said.
Asked if there was room to cut the aid budget further, Ms Bishop responded "I don't believe that we do, I believe that we have it about right", but she urged Labor to "look into their hearts" and pass budget savings to save foreign aid.
The topic appears to have been behind a series of critical facial expressions Ms Bishop made during Mr Hockey's speech paying tribute to Malcolm Fraser, in which the Treasurer praised the former Liberal prime minister for establishing the expenditure review committee process.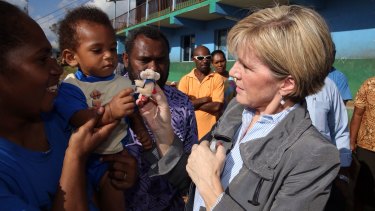 Ms Bishop is seen eye-rolling and putting her face in her hands, as though out of dismay, when Mr Hockey makes the remarks.
The expenditure review committee, or the 'Razor Gang' as it is also known, oversees budget cuts. It currently comprises Prime Minister Tony Abbott, Treasurer Joe Hockey, Finance Minister Mathias Cormann, Assistant Treasurer Josh Frydenberg, Social Services Minister Scott Morrison and Deputy Prime Minister Warren Truss.
The newspaper report flagging future cuts came on the same day Ms Bishop launched a new innovation project aimed at overhauling the way Australia thinks about and carries out delivering aid money to poorer countries.
Ms Bishop is optimistic "InnovationXchange" will shift the debate from the "near obsession" with how much aid money is granted as opposed to how successful it is in helping communities become self-sustaining.
The idea stems from a visit to Stanford University during Ms Bishop's time in opposition where she was inspired by programs matching entrepreneurialism with aid delivery.
The idea will cost $140 million over four years and involves collaboration with Bloomberg Philanthropies to help governments better gather health data.
An international reference group has been established to help drive the change and includes former New York City mayor Michael Bloomberg, renowned Danish academic Bjorn Lomborg, Sanjay Reddy from Indian company GVK, and Australian Capital Equity chief executive and Seven Group Holdings chief operating officer Ryan Stokes.
Mr Stokes told the launch it was important to link those with capital with those who can deliver real change on the ground.
"You have to look for what's going to drive long-term growth and…building some of the grassroots opportunities in these economies, it doesn't happen overnight," Mr Stokes said.
Dr Lomborg said the question for the panel will be where to best spend Australian money and cited the funding of school equipment as an example of where aid only bought so much.
"It works to get a chair, it works to get a table, it works to get a roof and then we run out of good ideas," he said.
"So we don't really know how to improve education and that's one of the places where we can look to innovation and get much better ideas."
Labor's Foreign Affairs spokeswoman Tanya Plibersek said the Prime Minister and the Treasurer were deliberately keeping the foreign minister in the dark about planned cuts to her portfolio.
"Julie Bishop has failed hopelessly to protect the aid budget," Ms Plibersek said.
"She signed off on the deepest ever cuts to the aid program in Australian history - no longer can Julie Bishop shake her head and shirk her responsibility for these cuts."
Latika Bourke is a journalist for The Sydney Morning Herald and The Age, based in London.