ALL Suzie Katter wants for Christmas is for her husband to dress better and talk less. Husband Bob has other things on his Christmas list: winning 12 lower house seats and five Senate spots in the federal election due next year.
Bob Katter is convinced he can achieve what Pauline Hanson couldn't - become the new third force in Australian politics. ''Pauline was a lady who had run a fish and chip shop. She didn't have the skills, the experience or the background you are sitting here talking to,'' Katter says, eyeballing me across the dining table.
The target for Katter's Australian Party in the 2013 federal poll, he volunteers with characteristic frankness, is 15 per cent of the vote.
Big ask. Have you got the money? Not yet, but Katter has mining magnate Clive Palmer in his diary for January. Katter has known Palmer since their adolescence, when Palmer was a surfie on the Gold Coast, and Katter was pursuing his own young man's dream of becoming a mining oligarch.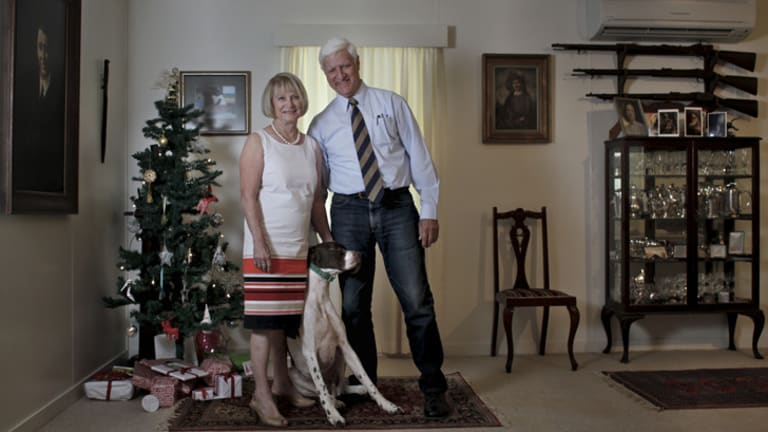 Queensland being Queensland, they were in the same clique. History of course records that Palmer gave up the surfing and took up the billionairing. Katter got cleaned up in the 1970s, and after a few career digressions - cattle, insurance - stormed into politics.
Palmer's bitter and public falling-out with the Liberal National Party in Queensland is an opportunity potentially for Katter and his burgeoning political insurgency. And risk, given that would be two big bulls in a small paddock.
Katter reckons he needs $4 million. That kind of cash is obviously beyond a grassroots fund-raising operation.
Happily for Katter, his wife Suzie is energised. A visit to Charters Towers reveals that she is his secret weapon.
She's a vivacious blonde who recently slugged him with a cardboard cylinder when he refused to wear a new suit she'd acquired for him. Katter thought it too Queen Street. She begged to differ.
They bicker throughout the day of our visit, with deep love and affection. The practice is long standing. Katter once cut down a tree Suzie had planted in the backyard. She retaliated by smashing his favourite Salvador Dali print.
Mrs Katter has loathed the minority parliament in Canberra. ''I was really coming to the end of it. I got calls from daylight 'til dark - Bob has to do this and Bob has to do that. Then when he wanted to start the new party I was up in arms. We'd had enough. We'd done our bit. We were retiring, and we were going to enjoy the grandchildren.''
Then she went to a meeting. She read the Katter's Australian Party platform. ''It was everything I believed in. I've taken up the fight, too.'' ''She's got the biggest branch,'' Katter interjects, probably proud, possibly afraid.
Consumers of politics might conclude Katter's populist, protectionist movement is all a bit of a novelty act - but Julia Gillard and Tony Abbott and their party organisations have a different view.
Katter's Australian Party, with dollars and professional organisation, could peel blue-collar votes from Labor and Abbott, who has spent a term courting blue-collar disaffection. And there are valuable preferences up for grabs.
''All I can say is [Gillard and Abbott] are tremendously friendly towards me. Both very friendly,'' Katter laughs.
Katter has spent the weeks before Christmas courting political support along the Murray-Darling Basin corridor - which would hurt the Coalition.
He sees opportunity in Newcastle and Illawarra - which would hurt Labor. And the Queensland rural heartland.
In the meantime, it will be a very Katter Christmas: the children and grandchildren - and lots of bickering.
Morning & Afternoon Newsletter
Delivered Mon–Fri.