The NSW Liberal Party has risked reigniting leadership tensions within the federal party by using Malcolm Turnbull in a last-minute push to shore up votes in marginal seats.
Fairfax Media has learned that voters in the state electorates of Coogee and Blue Mountains received recorded telephone messages – known as a "robocall" - from Mr Turnbull on Tuesday night.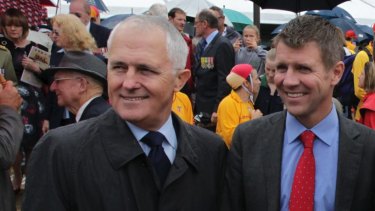 A Facebook user in the Blue Mountains complained: "As I was just typing that I just got a recorded message from Malcolm Turnbull telling me to vote for my local Liberal. I got one from Mike Baird last week. Don't appreciate that tactic."
The calculated use of Mr Turnbull by the state party is a potential embarrassment for Prime Minister Tony Abbott, who has been kept largely off the campaign trail except for a non-speaking role at the Liberal campaign launch over the weekend.
A Liberal Party operative warned before the campaign proper that Mr Abbott was "toxic" in cosmopolitan Liberal seats such as Coogee.
On Wednesday, a state Liberal source said: "If Turnbull was the [federal] leader we would be leading in Coogee, there's no doubt about that and Blue Mountains probably fits into the same category."
But the same source insisted the use of the Communications Minister was no slight on Mr Abbott.
"Abbott wouldn't mind, you are just playing to the demographics of those seats, your green Liberals, doctor's wives and small "L" Liberals, whatever you want to call them."
Coogee, which sits within Kingsford Smith, the neighbouring seat to Mr Turnbull's Wentworth electorate, is considered too close to call. It is held by Liberal Bruce Notley-Smith on a margin of 8.3 per cent and has gone with the government every year since 1976.
The challenger to Mr Notley-Smith is Paul Pearce, who lost the seat in 2011.
Blue Mountains is expected to return to Labor but is a close fight with Liberal Roza Sage attempting to defend a margin of just 5.4 per cent against Labor challenger Trish Doyle.
A senior Labor Party source said both seats are hot contests and the use of Mr Turnbull was a calculated move that Liberal campaign directors must have weighed up in light of the simmering tensions at federal level.
"Tony Abbott has pushed people into our camp so they were never going to use him in these seats but it's definitely a risk to use Turnbull in the current environment."
Fairfax Media readers in the electorates of Penrith, Seven Hills and Miranda on Wednesday reported receiving robocalls from former Prime Minister John Howard.
A spokesman for Mr Turnbull confirmed he had taken part in the robocalls.
Fairfax Media has sought comment from Liberal state director Tony Nutt.
Find out about your state seat using our election interactive:
Heath Aston is the environment, energy and corporate correspondent for the Sydney Morning Herald and The Age