Malcolm Fraser funeral: Politics Live
We now leave our coverage of Malcolm Fraser's funeral, which remembered him as a leader, proud Australian, loving husband, caring family man and Whitney Houston fan.
The flag at Parliament House in Canberra flies at half-mast today, as do other flags around the country.
For more coverage and analysis, please check out Fairfax Media's Fraser page.
And for a report on the funeral, Lisa Cox has the story here.
Thank you for tuning in and leaving your thoughts about Fraser.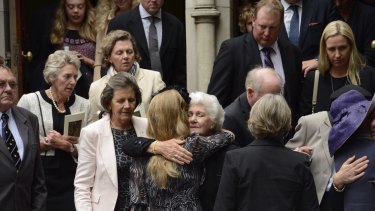 The Fraser family gathers outside Scot's Church as Fraser's coffin is placed in the hearse.
The organ recessional (played by Douglas Lawrence) continues inside.
As the hearse drives away, piper Peter Falconer, leads the cortege down Russell Street.
Autumn leaves line the street.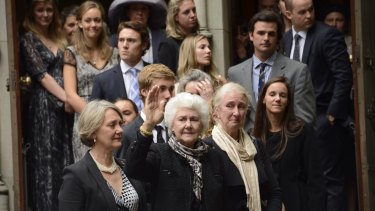 Fraser's coffin, draped in the Australian flag, is carried out of the church.
Tamie Fraser walks slowly behind it, with daughters Angela and Phoebe on each arm.
The Scot's Church choir sings "The Lord Bless you and Keep You".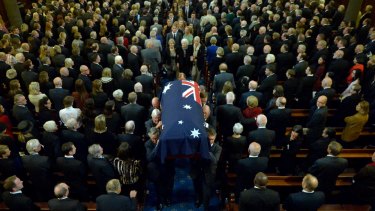 After a prayer for Fraser and his family, the church stands to sing, "The Day Thou Gavest Lord is Ended."
The tune is by St Clement and the choir soars above the congregation in all sorts of harmonies.
"The darkness falls at Thy behest ..."
During this, the pall bearers - Fraser's children and grandchildren - approach the coffin.
Reverend Douglas Robertson addresses the church.
He says that the Fraser family has a long connection with Scot's church. Malcolm Fraser's grandparents attended the church. They had a family pew.
Reverend Robertson says that Fraser epitomised the parable of the Good Samaritan.
"We don't really want to think about something like a time to hate [at a funeral].
"[But] there surely must be a time to hate.
"A time to hate, injustice.
"A time to hate racial inequality.
"A time to hate political oppression.
"A time to hate poverty."
The church hears that Fraser's favourite film was (unbelievably) The Bodyguard.
"Because of Whitney Houston," Rachael explains.
"Every time I stayed with him, he would ask Granny and I if we wanted to watch it, as if we had never seen it before."
"How many Twitter followers do you have?"
Rachael tells of how Fraser became intrigued as to why his grandchildren were checking their phones and thus, found out about Twitter.
"I still remember the cheeky grin on his face when he said, 'I've got 20,000 followers. How many do you have, Rach?"
"He was a joker at heart"
After a reading from daughter Phoebe Wynn-Pope, granddaughter Rachael Fraser gives a very personal take on her granddad.
"He was a joker at heart," she says.
"It is fair to say that granddad made a great impact and left his mark on each one of his children and grandchildren.
"From eating out of ice-cream tubs at the dinner table, to making sure he had the largest mug in the house for tea or coffee.
"It is clear granddad was most relaxed when with his family."