Indigenous Affairs Minister Nigel Scullion has warned that the push to recognise the first Australians in the nation's founding document could be derailed if proposals for a constitutional ban on discrimination spark a debate about multiculturalism.
''I don't think that the constitutional amendments would survive that, that's my own view,'' Senator Scullion said last week. ''It's such a huge debate and divisive debate.''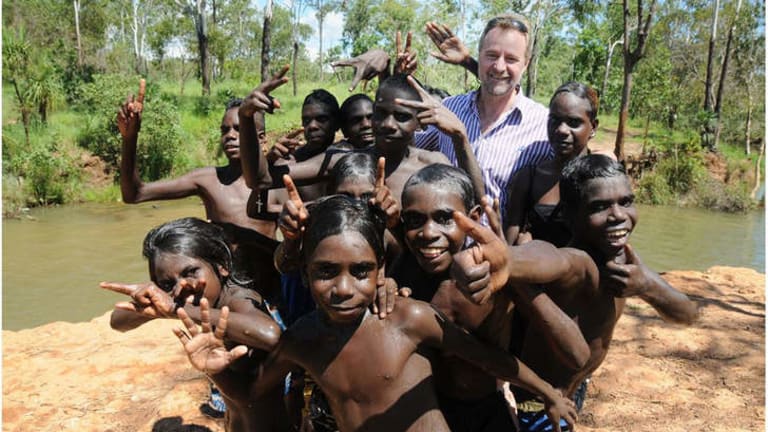 An expert panel of politicians, indigenous leaders and lawyers commissioned by the Gillard government to develop proposals for constitutional change recommended a new section be added banning discrimination on the basis of race, colour, or ethnic or national origin.
But, in an interim report last week, the parliamentary committee charged with advancing constitutional recognition signalled support for an alternative, in which a prohibition on adverse discrimination would apply only to Aboriginal and Torres Strait Islander people and would be incorporated into a section giving the Commonwealth power to make laws for indigenous people.
Senator Scullion said the debate should remain focused on indigenous people.
''This debate is about - in my view - Aboriginal and Torres Strait Islander people and that's where the debate should be embargoed,'' he said. ''With all respect to others, it's my job to champion the issues of Aboriginal and Torres Strait Islanders and I think that, if the debate becomes something else, it puts what we are trying to do at risk.
''It is easy for the task at hand to wander. Whether it's possible to [introduce protection from discrimination] just for Aboriginal and Torres Strait Islander people should be the question and, if it is possible to do it for Aboriginal and Torres Strait Islander people, to what extent the protection of those sort of things should be in the constitution.''
When the expert panel released its recommendations in 2012, then opposition leader Tony Abbott said he had ''some reservations'' about anything that might turn out to be a one-clause bill of rights.
The government has promised to release a draft constitutional amendment for public consultation by the end of the year, but has not set a timeline for a vote.
Liberal MP Ken Wyatt, the first indigenous member of the House of Representatives, said last week that is was likely the referendum would need to be held after the next election.
''My personal view is that there has not been enough discussion, nor enough work done in the broader Australian community,'' Mr Wyatt said.
The Parliament's first indigenous woman, Labor senator Nova Peris, still hopes a referendum can be put next year, but said the next six months may be crucial in deciding the timing.

Dan Harrison is Health and Indigenous Affairs Correspondent for Fairfax Media. He is based in Canberra.
Morning & Afternoon Newsletter
Delivered Mon–Fri.