Businessman MP Clive Palmer has defended skipping parliamentary sitting days by accusing the Abbott government of not presenting enough legislation for debate.
Labor, Greens and other independent MPs have also complained that the Abbott government is not introducing enough legislation into the House of Representatives.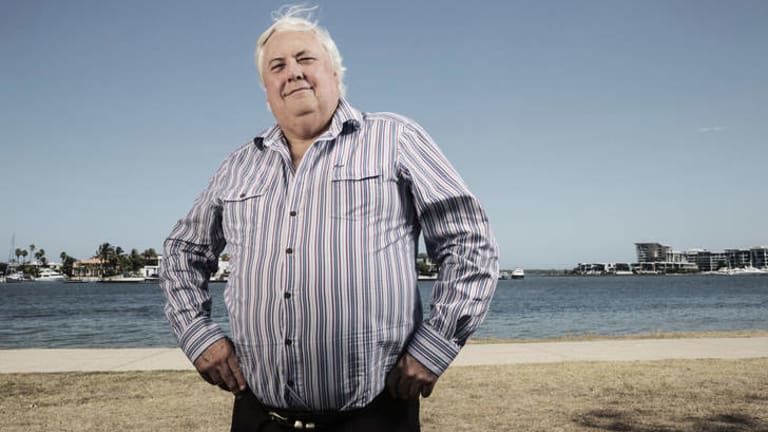 The Abbott government has 18 pieces of legislation listed for the current autumn session of parliament compared to 50 bills in the corresponding period last year.
Mr Palmer will attend question time on Wednesday for the first time this week. On Tuesday he was in the Gold Coast, where he gave a speech and delivered a press conference. On Monday he was in Canberra but did not enter the chamber.
''There's not enough legislation – it's all recycled initiatives from the Labor Party and a fixation on the mining and carbon taxes,'' Mr Palmer said. ''I think I can do more helping people in my electorate that sitting in Canberra with no legislation.
''I don't intend to be in Parliament every day – there's no point being here if there are no laws. I'm like a jellyfish in Parliament.''
Manager of opposition business Tony Burke said: ''There is clearly a bottle neck which has caused the legislative process to grind to a halt.''
The House of Representatives passed two pieces of legislation last week – a bill to stop any remaining $900 stimulus cheques from 2008 being mailed out and another increasing levies on dairy products.
On Tuesday the House of Representatives approved a bill increasing the governor-general's salary from $394,000 to $425,000.
Other pieces of legislation before the House this week including bills to increase excise on tobacco, reform the Tertiary Education Quality and Standards Agency and amend the Proceeds of Crime Act.
Independent Tasmanian MP Andrew Wilkie said: ''The current parliamentary tempo is indeed much slower than in the previous parliament. And what has been dealt with has been more to do with overturning the reforms of the last parliament than anything much new.''
Greens MP Adam Bandt described the lack of bills as ''woeful''.
A spokesman for House leader Christopher Pyne said: ''After three years of parliamentary chaos under the previous government, the Coalition is going about its legislative program in a calm and methodical fashion.
''It's embarrassing that Labor's measure of success under the previous government appears to be the number of rules, regulations and red-tape they imposed on Australian businesses and citizens.''
The Abbott government has scheduled a ''repeal day'' this month to eliminate redundant federal laws.
Some of the government's key policies – including the repeal of the carbon and mining taxes and the reintroduction of the Australian Building and Construction Commission – are more likely to pass after July when Labor and the Greens will lose their control of the Senate.
Right-wing think tank Institute of Public Affairs research fellow Chris Berg welcomed the legislative slow down.
''When you talk to small and medium-sized businesses they say one of their big issues is keeping up with legislation that changed every year,'' he said.

Matthew Knott is a federal politics reporter currently on sabbatical studying a Masters of Journalism at Columbia University in New York.
Morning & Afternoon Newsletter
Delivered Mon–Fri.