Kevin Rudd has welcomed the government's improved standing among voters, as Nationals leader Warren Truss warned Coalition colleagues not to be complacent about winning the next election.
In his first public commentary on an opinion poll since his failed bid to reclaim the Labor leadership in February, Mr Rudd said he was pleased with the latest result.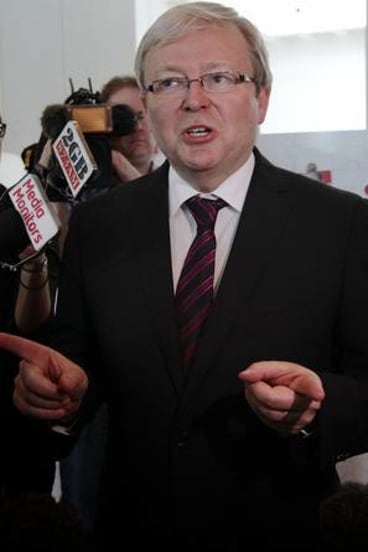 "It's good that the government is going well in the opinion polls," he said. "It's good that we're going better.
"And it's good that we now have a focus on two things: one is our vision for the country's future, and the second is the appropriate focus on Mr Abbott and his alternative vision - or non-vision - for the nation's future."
Mr Truss told a meeting of Liberal and Nationals MPs: "We can never be complacent or assume an election victory will be handed to us on a plate."
But he added that if everyone "holds tight", the opposition would win the next federal election, due in the second half of 2013.
Meanwhile, Treasurer Wayne Swan told a party room meeting this morning that if Labor continued to pressure the Coalition, it would "splinter". The Treasurer said the opposition's day-to-day strategy was held together by "chewing gum".
While Mr Swan did not refer directly to the latest Fairfax/Nielsen poll - which included an increase in Labor's vote and Prime Minister Julia Gillard's approval rating - he said that Labor had some "wind at our backs".
Mr Truss talked to his colleagues about the challenges facing the Coalition, referring specifically to Queensland, where Premier Campbell Newman had to make "tough cuts".
During the meeting, shadow treasurer Joe Hockey again criticised Labor for its "$120 billion black hole", and said he understood the government would bring forward it's mid-year economic update (due around November/December) so that many of its new spending promises - such as the National Disability Insurance Scheme - would not be included.
Opposition communications spokesman Malcolm Turnbull told his colleagues he would launch a web-based app next week that would allow people to test the speed of their broadband.
Liberal MP Alby Schultz, keen to have more questions asked about the national broadband network in his NSW electorate of Hume, suggested Mr Turnbull be given more questions in question time.
During the Labor meeting, Leader of the House Anthony Albanese was similarly focused on question time.
Last week, Melbourne MP Michael Danby and Sydney MP Laurie Ferguson missed their Dorothy Dixers, giving the opposition two questions in a row.
Today in caucus, Mr Albanese told MPs: "If you have a question, you should jump."
Morning & Afternoon Newsletter
Delivered Mon–Fri.