If the Fresh Sensations fruit shop and deli ever needs a government bail-out, at least co-owner Jim Mousikos will have some familiar faces on both sides of the aisle.
The Carindale shop has found itself at the centre of at least three political walkabouts, with a throng of media in tow, in as many weeks.
First, three weeks ago, it was Opposition Leader Bill Shorten with Labor's Griffith candidate Terri Butler.
Then, on Wednesday, it was Communications Minister Malcolm Turnbull's turn to squeeze some melons as he and Liberal National Party candidate Bill Glasson took the media on a Carindale tour.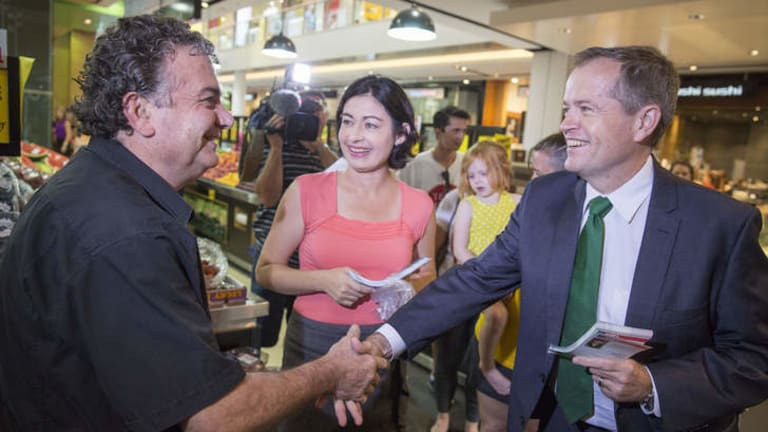 Barely 24 hours later, Mr Shorten and Ms Butler were back again – and Mr Mousikos seemed to be enjoying the constant attention.
''We've got another shop at Capalaba and in the past (Howard government minister) Alexander Downer visited, so we've had a few politicians come,'' he said.
''I don't know why they all come – they must like fruit, hey?''
Far from suffering political fatigue, Mr Mousikos hoped there was more to come.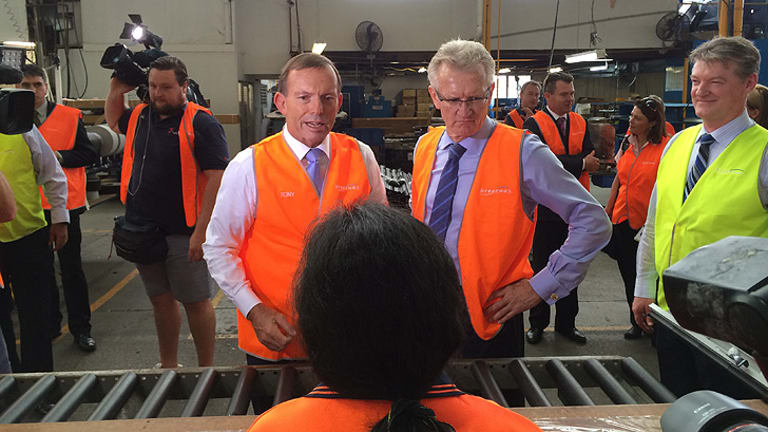 ''I'd like to see Tony (Abbott), that would be good if Tony comes,'' he said.
There was no such luck for Mr Mousikos on Thursday – the Prime Minister was instead with Dr Glasson across town at Coorparoo's Breezway factory, inspecting the company's louvre manufacturing plant.
There, the carbon tax was once again front and centre of Mr Abbott's pitch to voters to put their faith in Dr Glasson, much like it was in the long general election campaign of 2013.
''The carbon tax has become emblematic of unnecessary burdens imposed by government on businesses, workers and consumers of Australia,'' the Prime Minister said.
''The electricity bill here (at Breezway) is many thousands of dollars a month. Those bills would be significantly lower if the carbon tax went and that would be a significant boost to a business like this.''
When it was put to him that a loss in Griffith on Saturday could be a poor reflection on his government, Mr Abbott said he would not speculate on the result.
''You can have someone like (Dr Glasson), who will talk to you of what is in his heart, or you can have someone who is just going to spout the party line and I think it's a very clear choice,'' he said.
Dr Glasson described himself as a ''team player'', but said he would take up the fight to the Prime Minister if the issue warranted it, should a situation like SPC Ardmona develop in his electorate.
''It is my responsibility to work with people but it's also my responsibility to ensure that I advocate strongly and if the issue's strong enough, Prime Minister, I will make a stand … and if we don't agree then so be it, but I will make my voice known loud and clear,'' he said.
All the while, Greens candidate Geoff Ebbs and supporters rode back and forth on the street outside on some of the most politicised bicycles, covered in Greens signage, seen in recent times.
As C-1, the Prime Minister's car, left Breezway, the Greens were spotted loading their bikes on the back of a trailer.
Back at Carindale, the Labor duo of Mr Shorten and Ms Butler walked the well-worn trail, past Mr Mousikos's fruit shop, handing out election paraphernalia to the supportive, the bemused and the outright confused.
After all, it must be an experience having an Opposition Leader and half a dozen cameras in one's face without a moment's notice.
Having found the holy grail of election campaigning – five babies at one table – it was time for the post-walkabout media conference.
The Labor campaign got full points for consistency when they held it outside the Medicare office –the exact location they held a similar event three weeks earlier to the day.
''It's clear to me that on Saturday, voters have a stark choice – do they vote for Terri Butler, who will stand up for the local community, who will not simply be a yes person for Tony Abbott and Campbell Newman,'' he said, echoing comments made at every Labor campaign stop so far.
''Or will they vote for a candidate who will end up having to support tough cuts to the health system and not stand up for their local community.''
While Dr Glasson has voiced concerns that the burghers of Griffith were election-weary after up to five polls in two years, depending on the state electorate in which they resided, Ms Butler had no such worries.
''Byelections, traditionally, do have less of a turnout than general elections, but I've got to say people are pretty engaged,'' she said.
In three days, the Griffith byelection will be all but over, bar the counting.
And Mr Mousikos's fruit will once again be free of the threat of political molestation.
Morning & Afternoon Newsletter
Delivered Mon–Fri.