Scott Ludlam's ''welcome to Western Australia'' speech against Prime Minister Tony Abbott lit up social media and made him an instant hero of Gen Y.
But the Greens senator's campaign for re-election in WA has been hit by claims he is actually a social conservative on one important issue to many young people: the legalisation of marijuana and other drugs.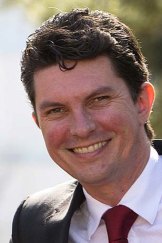 The legalisation debate is shaping as critical in WA because preference experts have identified the Help End Marijuana Prohibition, a micro party with 6000 members, as the best chance of success among the minor party alliance.
HEMP's lead WA candidate, Jim Moylan, blasted the Greens as ''a joke on cannabis law reform''. ''The Greens take votes away from us because people just assume they are for cannabis law reform,'' he said.
In fact, section 8 of the Greens' federal policy document on ''drugs, substance abuse and addiction'' states: ''The Australian Greens do not support the legalisation of currently illegal drugs.''
Section 14 outlines how the Greens support criminal sanctions for drug dealers and ''civil sanctions'' for personal use ''when not associated with other crimes''.
The legalisation debate has been given extra impetus after the US state of Colorado became the first jurisdiction to allow the growth, processing and sale of marijuana for recreational use. Washington will follow suit midyear.
Senator Ludlam rejected the social conservative tag. "If supporting a harm minimisation approach to illegal drug use and advocating the legalisation of medical cannabis is conservative, then so be it,'' he said.
HEMP has preferenced Labor before the Greens in WA - a reversal of its position at the September election. The party says the Greens backed out of a promise to host a drug summit in Canberra in return for HEMP's preferences.
In the most recent preference negotiations, the Greens brokered a deal in which WikiLeaks ''ratted'' on preference deals with HEMP and other left-wing parties.
Experts believe if the Greens can increase their primary vote of 9.5 per cent they will likely take the final seat, with three for the Liberals and two for Labor.
Heath Aston is the environment, energy and corporate correspondent for the Sydney Morning Herald and The Age