Zed Seselja's decision to take the easy option is a gift for the Greens in the ACT.
A Greens' strategist says the party is delighted at the prospect of taking on Seselja at the September 14 federal election.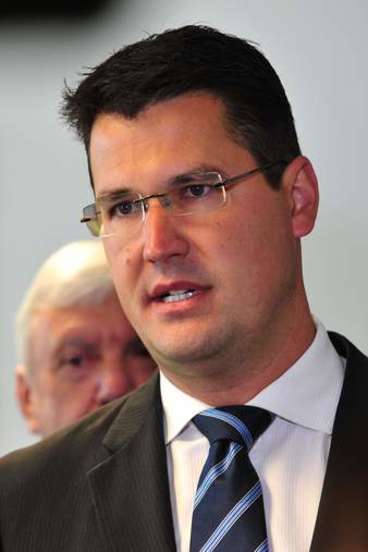 In the eyes of the left-leaning Greens, Seselja is at the other end of the spectrum, making him an easier target to link to Tony Abbott's conservative policies.
Gary Humphries is a Liberal moderate who has defied his party by crossing the floor on a matter of conscience.
He was elected to the ACT Legislative Assembly in 1989, served a stint as Chief Minister and entered the Senate in 2002 to fill the casual vacancy caused by the resignation of Margaret Reid.
Seselja who is about to turn 36, has been in the assembly since 2004.
He is expected to pitch himself to Liberal Party preselectors as the candidate of generational change.
He has fought two elections and is feeling "robbed" after the last year's close call.
Speculation has been rife since the ACT election that he would try to make the jump to federal politics, rather than face another long four years in Opposition.
Heck, if he could roll Humphries, he might surf into government on an Abbott landslide.
But in terms of helping Abbott win government, Seselja would play a greater role by trying to win the Labor held seat of Canberra from Gai Brodtmann.
He ran a very good campaign on Canberra's southside, Brodtmann's electorate, and might be able to trade on his high profile.
Still, that would be difficult. He would be taking a big risk to be representing Abbott there when the federal Coalition is committed to reducing the federal public service by 12,000 nationwide by natural attrition.
The Labor Party and the Greens have already been planning a major campaign targeting Canberra's public servants, telling them of what is ahead under an Abbott-led government.
That appears to be the reason Seselja is sizing up for a shot at Humphries' seat.
The Greens say the seat is the most marginal Senate spot in the nation, defying the record.
Humphries has had little trouble achieving the quota of one-third of primary votes.
His predecessor Reid once had to rely on One Nation preferences to scrape back in.
But this time the Greens have a high profile candidate, Simon Sheikh, the former frontman of national advocacy group GetUp.
And that means it's game on in Canberra for the second Senate spot.
Ross Peake is a senior reporter for The Canberra Times