A Sex Party candidate who lives in Canberra is in the running to become a senator for Tasmania on a platform of making it Australia's marijuana capital.
A distance of 1100km did not stop Robbie Swan from putting himself forward as a Senate candidate and campaigning for the island state to be turned into the nation's ''mull bowl''.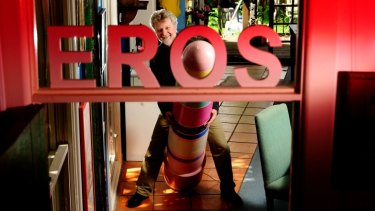 ''This would be worth $100 million a year just for Tasmania and it could be worth $2.4 billion - it was a serious policy,'' Mr Swan said.
As of Friday Mr Swan was battling it out for the final Tasmanian Senate position, although experts considered him an outsider after polling less than 1.5 per cent and was most likely to be beaten at the post by the Palmer United Party's Jacqui Lambie or Liberal Sally Chandler.
Tasmania already grows large quantities of poppies for morphine production.
The Sex Party candidate and longtime territory resident said numerous states in America were loosening marijuana laws and Australia would soon be left behind.
Mr Swan, co-founder of the short-lived but controversial magazine Matilda in the 1980s, said the results of the Sex Party nationally was harmed by a bungled preferencing agreement.
Mr Swan said Sex Party leader Fiona Patten would be a senator for Victoria now if it was not for a preferencing deal gone wrong with the Liberal Democrats.
As previously reported, the two parties have had a falling out after the Liberal Democrats failed to uphold its side of the bargain and lodge a group voting ticket in Victoria.
It meant the Sex Party's preferences flowed to David Leyonhjelm from the Liberal Democrats in NSW - who is now a senator-elect - but the Sex Party did not receive its expected preferences from the Liberal Democrats in Victoria.
Mr Swan now says it has cost the party a Senate seat. ''I don't know why we were so honest - people say we're the party of perverts, pimps and prostitutes.''
In response Mr Leyonhjelm said his office had too little time to get the paperwork submitted, plus there were distractions from the Australian Electoral Commission asking him to re-submit his NSW group voting ticket.
''I think they (the Sex Party) are thoroughly up themselves with all this shit,'' said Mr Leyonhjelm, 61.
He said a media onslaught struck him during his first week as a senator-elect after becoming a key minor party in the Upper House and he hoped it settles down.
''Otherwise it will kill me,'' Mr Leyonhjelm said.