The Australian Greens believe an ACT Senate seat is winnable for them at the next federal election and that high-profile campaigner Simon Sheikh is the man who can deliver it.
The former director of social issues at lobby group GetUp! was officially endorsed by the Greens on Thursday to represent them in a bid to snatch the seat currently held by the Liberal Party's Gary Humphries.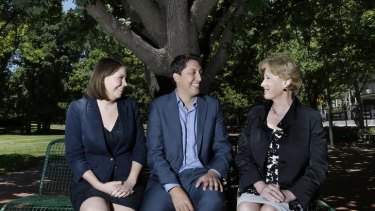 The preselection contest sparked Greens infighting last month when opponent Kate Hamilton described Mr Sheikh as a ''celebrity candidate''.
But the former GetUp! director won preselection convincingly with three quarters of the vote and Ms Hamilton has now publicly thrown her support behind him.
Mr Sheikh, who recently joined the Greens and moved to Canberra, said his campaign would begin immediately and he was confident of engaging well with the local community.
But Senator Humphries said the Greens were ''out of touch with reality'' and had chosen a blow-in to campaign in the ACT.
''To the Greens, Canberra is just another notch in the belt,'' Senator Humphries said.
''By preselecting someone who has lived here for a month and a bit, the Greens have shown just how out of touch they are when it comes to the real issues facing Canberra households and businesses.
''The Greens will again throw resources, money and a parachuted candidate into the ACT campaign to attempt to clock up another seat in Federal Parliament.''
But Mr Sheikh said he had been involved in many issues-based campaigns in Canberra aimed at improving the lives of local people.
His many visits to the capital, he said, caused him to fall in love with the ACT. He said as soon as he left GetUp! in July, he and his wife, Anna Rose, decided Canberra was the ideal place to raise a family.
''I'm looking forward to spending the weeks leading up to Christmas continuing to support and engage with the diverse and vibrant communities in Canberra,'' Mr Sheikh said.
''I've been overwhelmed by offers of support and am grateful for the positive response of the ACT community. We'll begin doorknocking this weekend and continuing our presence at community events.
''While many politicians who represent Canberra in Federal Parliament do so by toeing the party line, I'll do it by running community campaigns, just like I've always done.''
Mr Sheikh said he would be campaigning hard to highlight the ''terrifying prospect'' of public service job cuts Canberra could face if Opposition Leader Tony Abbott won government.
Greens leader Christine Milne welcomed Mr Sheikh's candidacy, insisting that he could win the Senate seat.
''The ACT is going to make history here in the federal election,'' she said. ''Fifteen hundred people in Canberra have to change their vote and we will get an Australian Greens senator.''