Support for Coalition's company tax cuts falls ahead of policy's impending political death
The Turnbull government is contemplating a new plan to accelerate small business corporate tax cuts as a face-saving way of killing off its increasingly unpopular signature economic policy within days.
The Coalition's $35.6 billion bid to lower the tax rate for Australia's biggest businesses heads the list of government legislation before the Senate on Monday, but is widely expected to be voted down by despite months of negotiations with an unconvinced crossbench.
Coalition MPs - including potential leadership rival Peter Dutton - have openly called for Prime Minister Malcolm Turnbull to reconsider the package if the Senate rejects it. The government's chief negotiator, Finance Minister Mathias Cormann, has been strong defender of the package, arguing it was the right economic policy for the country despite being a tough sell politically.
Under legislation that has already passed Parliament, small firms earning up to $50 million will have their tax rate lowered to 27.5 per cent this year. Should the larger package die in the Senate this week, the Coalition is considering bringing forward a further reduction for small businesses to 25 per cent, which is not scheduled to come into force until 2026.
Labor has claimed such a move would cost the budget $1.8 billion over four years.
The idea has the support of the key Centre Alliance crossbenchers and would wedge Labor into a political fight over small businesses by forcing them to repeal or support the tax cuts should it win the next election.
Independent senator Derryn Hinch declared his support on Sunday, leaving the government only needing the votes of One Nation to push the tax cuts through early. One Nation leader Pauline Hanson said "it was worth consideration".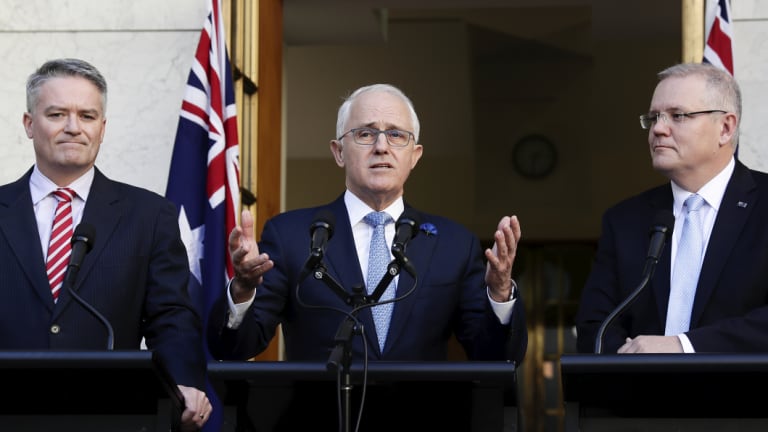 While Labor supports the existing 27.5 per cent rate for small business, shadow treasurer Chris Bowen signalled the party would struggle to support any acceleration, arguing the estimated $1.8 billion cost is equivalent to public funding of vocational education or the ABC.
"No one should think for one moment that you can bring forward a company tax to 25 per cent and it has no cost to the budget and no implications for other services or the surplus," Mr Bowen told Fairfax Media.
Labor has vowed no business will get a tax cut under 27.5 per cent if it wins government.
The Coalition's stalled plan to gradually lower the tax rate for big businesses is seen as indefensible by some MPS in the wake of a huge swing against the government in the recent Longman byelection.
Dumping the package would give the government billions of dollars to use ahead of the next federal election, potentially blunting some of Labor's attacks on hospital and school funding.
A Fairfax-Ipsos poll released on Monday shows support for the company tax cut package has fallen from 49 per cent to 44 per cent in less than six months.
The package is more popular among men than women, and significantly higher among those aged under 25.
Support for the tax cuts has dropped even among Coalition voters. In April, 71 per cent supported the package, but that fell to 67 per cent in Monday's poll.
Australian Chamber of Commerce and Industry chief executive James Pearson said the business community "has every right to be alarmed" by any move to drop the package.
"Good long-term policy – to encourage business to invest in cheaper, more reliable energy while meeting our emissions targets; and to stimulate business through tax cuts – has been taken hostage by short term politics," he said.
Business Council of Australia chief Jennifer Westacott said abandoning the cuts would be a "surrender in the battle for global competitiveness."
"The losers from a failure to give Australia a competitive company tax rate will be Australians workers, through lower investment, fewer jobs and slower wage growth," she said.
Mr Turnbull said negotiations were continuing with the Senate crossbench.
In June, Opposition Leader Bill Shorten was forced into a backdown over his decision to repeal already legislated tax cuts from 30 to 27.5 per cent for businesses earning between $10 million and $50 million.
Eryk Bagshaw is an economics correspondent for The Sydney Morning Herald and The Age.