The unlikely accord between Penny Wong and Mathias Cormann
Labor's left-wing senator Penny Wong and the conservative Liberal senator Mathias Cormann are on decidedly opposite sides of Australia's political divide.
Yet even on the fiercest of days, when political debate between the two spills over into what looks like naked anger, as occurred this week, they share an unusual understanding. Call it a mutual respect born of hard experience.
Their rapport is clearly more than knowing the strain of trying to make numbers add up as finance minister - it's Cormann's job now, but it was Wong who held the portfolio before him.
They share something more fundamental: the knowledge of immigrants about what it means to be an outsider working hard to make it all the way to the inside of Australian politics.
Wong is Asian-Australian (she was born in Malaysia to an Australian mother and a Malaysian father) and is a lesbian. When she entered politics, merely being female was widely judged to be a potential political handicap.
Cormann is certainly Australia's first Finance Minister who speaks with a pronounced German accent, which has made him the subject of at least subterranean sledging.
He was raised about as far from Australia as possible: in Raeren, a small town in eastern Belgium. His father fell ill when Cormann was 10, and the family was forced to rely on a state disability pension and welfare from the Catholic church.
Cormann spoke German, French and Flemish, but understood not a word of English until he was in his 20s.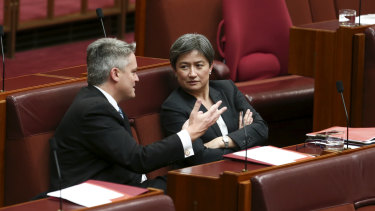 Both Cormann and Wong have engaged in ferocious exchanges in the Senate and in committee hearings, but their experiences outside the political realm have enabled them to retain an equable relationship within.
Indeed, Wong has been on record for years as having expressed respect for Cormann's decency and forensic approach to his work.
"I prefer those political relationships where you can keep some perspective and I've generally found with Mathias that we can have a pretty robust argument but we are still able to have a cordial exchange outside the chamber. Not all senators are like that," she told an interviewer from The Sydney Morning Herald four years ago.
But when Cormann accused Wong in a Senate estimates hearing this week of "channelling Pauline Hanson", it wasn't hard to suspect that any former understandings between the pair were cast adrift forever.
"Don't tell me I channel Pauline Hanson, I find that personally offensive," snapped Wong.
"I can tell you what happened to me and my family and people like us when she stood up in the Parliament, possibly before you were here, saying Australia was in danger of being swamped by Asians.
"I will never do anything other than fight her. Bad call Mathias."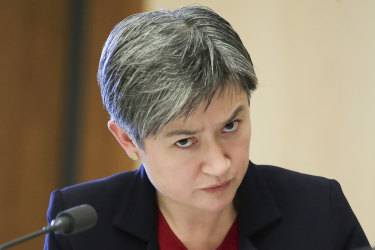 Cormann said he "did not want to cause any offence, you know that", but the atmosphere remained icy. An immigrant Finance Minister with a pronounced foreign accent accusing his Asian-Australian adversary of "channelling" a nationalist like Pauline Hanson was clearly way out of bounds.
And yet, the deeper understanding between these two outsider-insiders proved to hold.
"I think there is a place for civility and respect in the heat of politics," Wong said on Wednesday.
"There are lines that you don't cross, but if you do, you do your best to retrieve it."
Soon after the white-hot exchange was over, Wong fired off a tweet, making it clear she believed Cormann had tried to retrieve the line he had crossed.
"I will never do anything other than stand up to Pauline Hanson and her views, but I know Mathias is one of the decent people in this government and accept his assurance he did not mean to cause offence," she told her 196,000 Twitter followers.
Cormann retweeted Wong's tweet and added his response to her for the benefit of his 31,800 followers.
"While we are fierce political competitors, I value the fact that we always aim to engage in the political contest professionally and with courtesy and mutual respect," he wrote.
In the often febrile atmosphere of Australia's Parliament, the Wong-Cormann accord seemed close to proof that politicians can be human, too.
Tony Wright is the associate editor and special writer for The Age and The Sydney Morning Herald.