Prime Minister Tony Abbott has called for the Liberal Party to be more magnanimous to Malcolm Fraser in death than it was to him in life, as Parliament suspended operations to pay tribute to the former prime minister.
Politicians from all sides of politics on Monday spoke in honour of Mr Fraser, Australia's 22nd prime minister, who died early on Friday aged 84.
Mr Abbott said Mr Fraser would be remembered as a "complex and driven man" and a "forceful and effective leader" who had been supported by those on all sides of the political spectrum at one time or another.
"But, Madam Speaker, we Liberals owe him more than that," Mr Abbott said.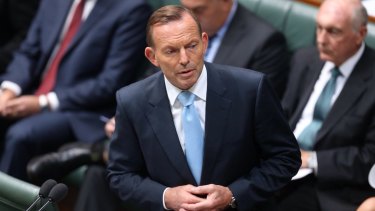 "Our challenge is not to say goodbye - it's to be more magnanimous in his death than we were in his life and to acknowledge this giant who is surely one of us.
"Fraser was not an avid social reformer like [Gough] Whitlam, nor a mould-breaking economic reformer like [Bob] Hawke, but he gave the country what we needed at that time."
Mr Abbott praised Mr Fraser for passing indigenous land rights, accepting 50,000 Vietnamese immigrants, establishing SBS and arguing against apartheid in South Africa.
Treasurer Joe Hockey said: "The modern left is trying to own Malcolm Fraser but nobody owned Malcolm Fraser. He was his own man. He was a genuine Liberal. He was of the Liberal Party and for ever, no matter what happened in later years, he will remain a part of the Liberal Party."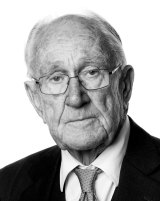 Communications Minister Malcolm Turnbull said the nation had lost "one of its greats".
"He focused on the future but he did so in a thoroughly positive way and in that respect gave all of us an example that we should, at every stage, like Fraser and like Whitlam, drive the negativity and hatred and bitterness out of ourselves and fill it with love because that makes us stronger and makes our nation stronger," Mr Turnbull said.
Foreign Minister Julie Bishop said he was a man of "intellectual rigour" and humanity who abhorred prejudice.
Opposition Leader Bill Shorten said: "For some, Malcolm Fraser was a hero who became a villain. For others, he was a villain who became a hero. But neither of these simple sketches are fair, and in time history's judgment will be kinder than either. The good that Malcolm Fraser did will live after him to his great enduring credit."
Labor infrastructure spokesman Anthony Albanese said he remained of the view that the dismissal of the Whitlam government in 1975 was "undemocratic and "wrong" but that he had come to appreciate Mr Fraser as a man of "intense principle".
Liberal Democrat senator David Leyonhjelm attracted controversy on Monday by criticising the decision to allocate an entire day to the condolences and to cancel question time.
Senator Leyonhjelm said the public expected MPs to be working and "not slacking".
"I hope Hawkey doesn't die otherwise we'll never get any work done," Senator Leyonhjelm said.
A state funeral is expected to be held for Mr Fraser on Friday in Melbourne.