It loomed as one of the toughest days for Tony Abbott - his first appearance in the chamber he had dominated as opposition leader and then commanded in office.
Now he was back, returning not so much in triumph as defeat, the vanquished backbencher.
All eyes would be on him - parsing his every expression, and interpreting his tiniest gesture.
But this is Australia so despite weighty atmosphere and tension you could have cut with a knife, sometimes a good-natured prank is just as good.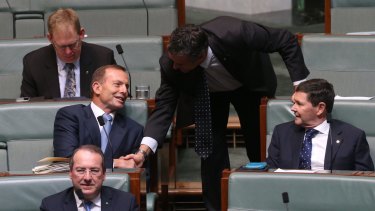 Among Abbott's many admirable qualities is his willingness to laugh at himself.
His obvious grief notwithstanding, the ousted PM showed no hesitation doing just that when a cheeky Coalition colleague, the Nationals member for Gippsland, Darren Chester, furnished his old boss with a slip of paper.
What was on it? It was a membership application for the Nationals.
The gesture brought laughter from Abbott and from several MPs around - the subtext being, your own party might have knifed you, but there's another force in conservative politics that would welcome such a distinguished new addition to its ranks.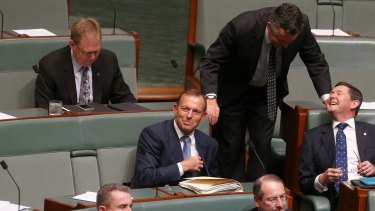 Of course, what the good burghers of leafy Warringah on Sydney's North Shore might think of inheriting a Nat as their federal representative is an open question.
And it does raise another question. What was Chester thinking anyway? The poor chap had gone out on a limb backing marriage equality earlier this year which is doubly courageous within the more socially conservative rural party. Yet the push for progress via a free vote was deliberately drawn out and defeated - and by none other than Abbott as PM.
It is understood John McEwen House in nearby Barton - the Nationals' federal secretariat - is yet to receive the completed form from Abbott, but stranger things have happened in politics...
Mark Kenny is the national affairs editor for the Sydney Morning Herald and The Age, based at Parliament House