Prime Minister Tony Abbott has declared his budget is "not draconian, it's necessary", seizing on comments from Reserve Bank Governor Glenn Stevens suggesting the Coalition's economic strategy was prudent and sensible.
And Mr Abbott said while the government had passed about $20 billion in savings measures through the budget appropriation bills, "there is a lot of other work that needs to be done through the legislative process" before adding he was confident major budget measures will largely pass through the Senate.
The Prime Minister's comments come as the Australian Medical Association prepares to release its proposed changes to the $7 GP co-payment on Thursday, which is expected to outline a series of exemptions to the plan.
On Wednesday, Mr Stevens said the budget was not "draconian" in his view and that steps had to be taken to change the structural settings of the budget.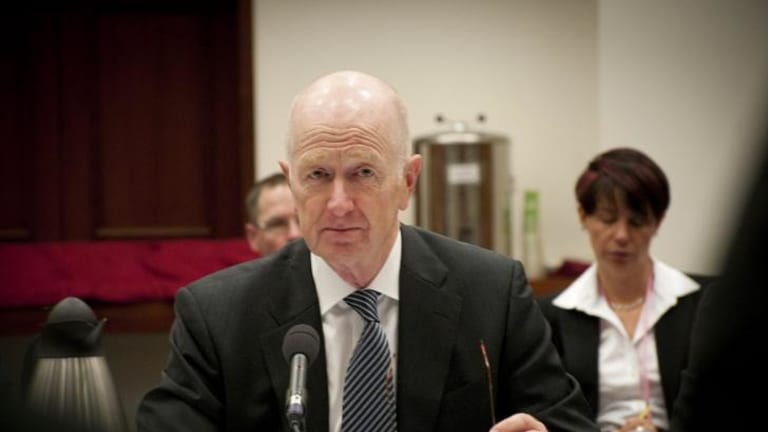 On the 100-day anniversary since the Coalition introduced its budget, Mr Abbott told Fairfax Radio 3AW that Mr Stevens' comments were "one of the more sensible comments about the budget in the last month or so".
"If you listen to the Labor Party it is the end of the world as we know it . . . we stand behind the budget measures, we accept that we have got to get it through the Senate and obviously that involves a conversation, a dialogue, a negotiation,'' he said.
"We haven't given up on any of our budget measures."
In a separate interview on ABC radio, Mr Abbott said his budget was "not draconian, it's necessary. Many of the measures take effect gradually, it's a budget for building as well as saving, it's a budget for playing to our strengths as well as living within our means."
"There has been an almost hysterical reaction to parts of the budget, manipulated by the Labor Party of course, but I think the more the budget is carefully considered the more likely it is that most of it will go through," Mr Abbott said.
Asked if pensioners, for example, could face a lower GP co-payment, Mr Abbot said "pensioners are patriotic people, they know what it's like to run budgets, to run families and they understand that we have to live within our means".
In a subsequent press conference, Mr Abbott said the so-called budget crisis had begun to end when the Coalition had been elected.
"If you've got a fire, you've got an emergency but the instant the fire brigade turns up, the emergency starts to come under control,' he said.
"This is a government that does understand that you've got to live within your means and every day since September last year we have been getting on with the job of budget repair."
Labor treasury spokesman Chris Bowen said that 100 days after the budget had been handed down, the government was sending mixed messages to voters about the urgency of the task at hand.
"We see mixed messages and a confused strategy. Joe Hockey says there is a crisis that must be dealt with, Mathias Cormann says mission accomplished, we have passed enough of the budget. This has been a budget strategy that has lacked coherence and logic,'' he said.
"And of course over the last 100 days we have seen the Treasurer get basic a facts wrong about his budget, we have seen the Treasurer insult the Australian people."
Independent senators David Leyonhjelm and Nick Xenophon - both of whom can help pass up to $40 billion in contentious savings measures that remained stalled ahead of parliament's resumption next week - questioned the shift in political tactics from the Abbott government.

James Massola is south-east Asia correspondent, based in Jakarta. He was previously chief political correspondent for The Sydney Morning Herald and The Age, based in Canberra. He has been a Walkley and Quills finalist on three occasions.
Morning & Afternoon Newsletter
Delivered Mon–Fri.