Turnbull government offered to exclude big banks from company tax cut for One Nation support
The Turnbull government offered to exclude Australia's big four banks from its company tax cuts in a last-minute pitch to gain the support of One Nation for the signature economic policy.
In a move that will deepen entrenched animosity between the banking sector and the Coalition government, Treasurer Scott Morrison drafted legislation that excluded banks with held assets worth more than $500 billion and delivered it to One Nation leader Pauline Hanson last week.
Senator Hanson - who had previously said she could never vote for a tax cut for the big banks - rejected the approach, ensuring the $35.6 billion package will fail when it comes to an expected vote on Tuesday.
"One Nation has voted for every single business, except the banks, with a turnover above $50 million to pay more of what they earn to Canberra," Mr Morrison told Fairfax Media.
The government's last-minute pitch to One Nation goes against the party's long-held economic views on tax reform.
Prime Minister Malcolm Turnbull said in March that carving out banks from the tax cut would create "problems of definition" while Mr Morrison has forcefully argued against the inefficiency of different tax rates for different sectors since he became Treasurer.
The expected demise of the tax policy caps off what was a difficult day for Mr Turnbull, who also abandoned plans to legislate an emissions reduction target of 26 per cent in the face of a leadership-threatening revolt from his own backbench.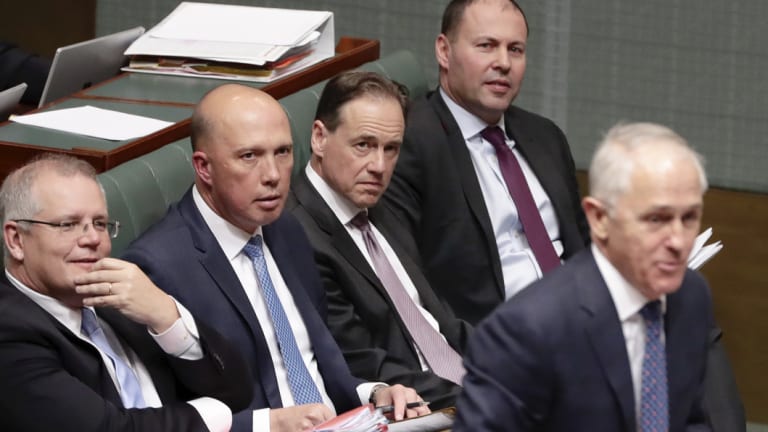 Fairfax Media can reveal the mood inside cabinet has shifted from an expectation the government would persevere with the tax cuts until the next election, to dumping them completely - in favour of freeing up a multibillion dollar election war chest to spend before the next federal poll.
Mr Turnbull will face cabinet again after the tax cuts are voted down, where ministers will begin discussions on what to do with the billions of dollars left over from the doomed policy.
The capitulation will satisfy agitators within the Coalition who feared pursuing the unpopular tax cuts would be electoral suicide.
Business has been aghast at the policy chaos in Canberra, with both the National Energy Guarantee and company tax cuts falling victim to internal squabbling and opposition from other parties.
Australian Chamber of Commerce and Industry chief James Pearson said short-term political opportunity had scuppered long-term policy.
"We now have a perverse situation where a medium-sized company will avoid growing [past $50 million]," he said.
The legislation to cut the company tax rate from 30 to 25 per cent for all companies earning more than $50 million was scheduled to be brought to a vote this week, but its fate was sealed by Senator Hanson by lunch-time on Monday.
The government effectively abandoned negotiations with the other two key Senate crossbenchers from the Centre Alliance party before the last sitting week, unable to reach a compromise on demands from Senators that they be given a rock-solid guarantee that no other services would be cut.
With independent senators Tim Storer and Derryn Hinch opposed, the government had to secure the votes of One Nation and the Centre Alliance to have any chance of passing the package.
Billions of dollars in funding for healthcare, infrastructure and education initiatives are now on the table. It is understood no formal announcements are likely to be made before next week.
Axing the second tranche is only expected to save $100 million in the first year. Over a decade that ramps up to $35.6 billion as the tax rate for companies earning over $50 million reduced gradually from 30 to 25 per cent.
The government has already passed tax cuts for small to medium businesses earning up to $50 million, which will be phased in over a decade from 30 to 25 per cent.
One option that is likely to sail through the Senate is to cut taxes immediately to 25 per cent for small-medium businesses rather than waiting for them to come into effect in 2026-27.
The move - estimated to cost $1.8 billion over the forward estimates - has the in-principle support of every crossbencher except for South Australian independent Tim Storer.
"If they wanted to accelerate reducing those rates we would certainly be up for discussions," said Centre Alliance MP Rebekha Sharkie.
Eryk Bagshaw is an economics correspondent for The Sydney Morning Herald and The Age.