In the kerfuffle surrounding the Australian Workers' Union ''slush fund'' affair, a bigger policy question has been ignored. The forensic and political fuss has all been about what Prime Minister Julia Gillard did some 20 years ago in setting up an incorporated association for two union officials.
The deeper concern should be what on earth businesses were doing contributing money to such union officials. Companies like Thiess, John Holland, Fluor Daniel and Woodside reportedly contributed $180,000 to a fund in Victoria, via a solicitors' firm as an intermediary.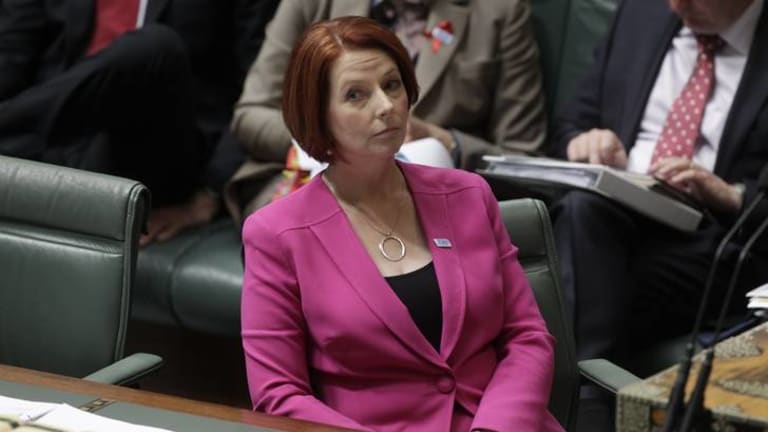 The association Gillard established was based in Western Australia but also allegedly ended up receiving payments from employers.
The term ''slush fund'' sounds pejoratively murky. It really just means discretionary monies, a hollow log.
A typical slush fund in politics is not a source of fraudulent private benefit but a fund, with few conditions or strings attached, to engage in politicking and electioneering.
The question can thus be easily stated: should it be lawful for a business to support particular union officials or union factions over others?
Some commentators label such payments ''protection money'', believing companies are too easily squeezed by the standover tactics of union officials, who threaten industrial action.
In this perspective, it is the employer - even a large corporation - that is vulnerable. In another perspective, the corporation is doing good business by forging useful relationships. In this view, the problem is not that employers are vulnerable to being shaken down. On the contrary, they are capable of buying favours in a manner designed to threaten robust representation of union members.
From a third angle, the business people involved are just indirectly participating in industrial politics.
By analogy, it is lawful in Australia to donate money to most political party or interest group campaigns. Now, it is quite legitimate for a union to bargain for resources to help it represent workers, such as for funds to train delegates, or a room at a workplace. That enhances the union's collective capacity.
While such arrangements are often made as common law side deals, they should be made through enterprise bargaining, that is via an agreement that will be voted on and made public.
The problem with dealings that involve particular union officials or factions, and private arrangements and funds, is that the principle of free trade unionism is imperilled. This is the cornerstone principle of international labour law; that employee associations must be autonomous from employers.
Let us leave aside the problem of officials who are personally on the take. They ought be dealt with, along with any culpable employers, under laws on fraud, bribery or secret commissions.
Is it ever legitimate for an employer to fund campaigning by a union official or ticket? The very fact that such arrangements are kept hidden suggests that ordinary unionists would say ''never''. Hence we ought, at least, to have laws requiring the timely disclosure of such funding, but money is fluid and such laws would be hard to police.
Union campaigns, like any political campaign, need resources. It has long been held that the use of union resources, typically by incumbents, is a breach of fiduciary duty, at least during a formal union election campaign.
Under the Fair Work Act, unless the use of union resources is even-handed (for example, a mail-out of candidate statements in a union election) an offence has been committed and an election may be overturned.
Union politics and union elections are not as socially important or widespread as they once were, but the decline in media interest and the amalgamation of smaller craft unions into so-called super unions means that fair and accountable elections are no less important.
In the past, union elections were influenced by money from outside forces, ones driven by ideology more than self-interest. The Catholic-influenced National Civic Council and Communist groups are the obvious examples.
The problem is partly shared by parliamentary elections: to what degree should businesses fund political parties (or be open to being shaken down by parties for donations)?
But the analogy is inexact. Public politics is a based on a plurality of interests, and the real question is how to allow businesses and other interest groups a voice without the wealthy voices predominating. With unions, the issue is that fundamental principle of free trade unions.
Understood this way, there is no fundamental freedom for union officials to be raising election funds from businesses, or for businesses to be playing a part in union elections. To deter payments of this kind, they should be illegal.
Graeme Orr is a professor at the University of Queensland and the author of The Law of Politics.
Morning & Afternoon Newsletter
Delivered Mon–Fri.