The United States is on the verge of approving a licence later this month for the world's first plant to enrich uranium on a commercial scale for civilian nuclear power reactors using laser technology developed by an Australian company.
The Australian firm, Silex Systems, says that its secret laser system is cheaper than existing methods of turning natural uranium into fuel for reactors that generate electricity. The plant could be in operation in the US by 2016. It would be run by a partnership of three leading nuclear suppliers, America's GE Energy, Japan's Hitachi, and Canada's Cameco, the largest uranium producer.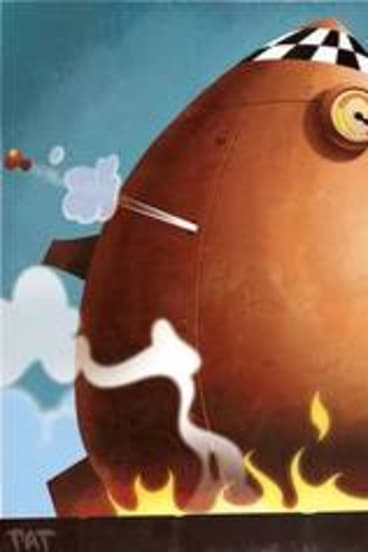 This could give the partners a significant share of global enrichment business and enable them to offer buyers a complete commercial package that included construction of reactors and supplying fuel.
The enrichment market is expected to be worth $US20 billion ($A19 billion) by 2030, as more countries in Asia, the Middle East and elsewhere start or expand nuclear power to generate big amounts of electricity without the pollution and global warming emissions caused by burning coal.
But enrichment is controversial because it can produce nuclear bomb-grade uranium as well as fuel for civilian reactors. Some critics of the impending move to a more advanced method of concentrating fissile uranium elements using lasers say it comes at a critical time and will encourage the spread of nuclear weapons, even though the US and Australian governments have put strict safeguards in place to prevent unauthorised use of the laser technology.
At present, uranium is mostly enriched with arrays of thousands of spinning centrifuges, a mechanical and relatively simple technique that even rogue states can copy. Both Iran and North Korea have done so. Concern is growing that Iran and North Korea will soon enrich nuclear bomb-grade uranium using this older centrifuge technology, prompting other countries in the Middle East and Asia that feel threatened to consider going nuclear - and to take a close look at laser enrichment as they do so.
North Korea has already built a small nuclear arsenal using plutonium reprocessed from used reactor fuel. Uranium enrichment is a second, and some say faster, pathway to making nuclear weapons.
SILEX is an acronym for Separation of Isotopes by Laser Excitation. The company, a spin-off from the Australian government's nuclear science and research establishment at Lucas Heights, south of Sydney, is listed on the Australian Stock Exchange. The company's website says that its laser-based SILEX process provides much higher enrichment efficiency compared older centrifuge and gas diffusion methods, offering significantly lower costs.
An assistant professor of nuclear science and engineering at the Massachusetts Institute of Technology, Scott Kemp, says that the worry with SILEX laser technology ''is that it is particularly suited for nuclear proliferation, even better than centrifuges. SILEX can also enrich fuel-grade uranium to weapons-grade in fewer steps than a … centrifuge.''
Professor Kemp was until 2011 science adviser in the Office of the Special Adviser for Nonproliferation and Arms Control at the US State Department. Writing in the latest issue of the Bulletin of the Atomic Scientists, he says that before the plant is licensed the US government or Congress should commission an independent inquiry into whether its benefits outweigh the added proliferation risk. Other US nuclear scientists and arms control specialists have previously called for similar action.
At least 27 countries, including North Korea and Iran, are known to have shown interest in laser enrichment. The most recent is India, which like Pakistan and Israel, has developed nuclear weapons in defiance of the treaty to prevent the spread of these weapons. In April, a South African firm said that it had sold one of its advanced lasers to an Indian government atomic research laboratory.
Professor Kemp says that China and South Korea have recently begun courting US laser-enrichment experts. A US State Department assessment in 1999 of the SILEX technology and the plans to start commercial processing conceded that a laser enrichment facility ''might be easier to build without detection and could be a more efficient producer of high enriched uranium for a nuclear weapons program.'' The 16-page assessment specifically raised the question of whether, if SILEX led to a breakthrough in low-cost enrichment, others might pursue the process with an accompanying nuclear proliferation risk?
''It seems likely,'' the State Department said, ''that success with SILEX would renew interest in laser enrichment by nations with benign intent as well as by proliferants with an interest in finding an easier route to acquiring fissile material for nuclear weapons.'' However, the department concluded that any potential risk was offset by the fact that laser enrichment was difficult to master and that even advanced nuclear nations had experienced considerable difficulty in solving the complex technical challenges associated with both the technology and the materials handling problems involved.
The US is the world's biggest nuclear power producer, generating nearly 20 per cent of its electricity from reactors. But the US has to import about 80 per cent of the low enriched fuel used in the reactors. It clearly hopes that laser enrichment would reduce this dependence and lower fuel costs.
That would be good for the US - provided it can prevent the laser technology from spreading and fuelling a nuclear arms race.
The writer is a visiting senior research fellow at the Institute of South East Asian Studies in Singapore.
Morning & Afternoon Newsletter
Delivered Mon–Fri.