THE CHINA BREAKTHROUGH.
By Billy Griffiths. Monash University Press. 143pp. $24.95.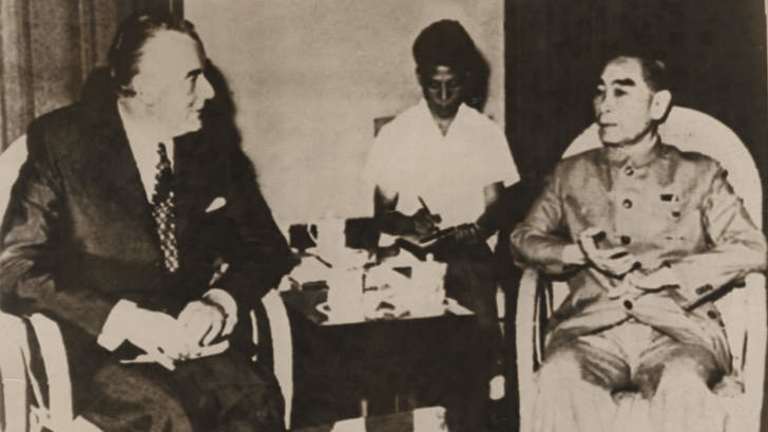 Reviewer: MARK THOMAS
Do you remember when we used to talk about monographs, in describing scholarly writing, as often the length of a long essay, concentrated on a single subject? Billy Griffiths, who teaches history at the University of Sydney, has produced a useful, thoughtful such monograph, on Gough Whitlam's visit to China in July 1971 as leader of the opposition.
In The China Breakthrough, ''scholarly'' does not mean verbose, didactic, unduly academic or self-indulgent. Griffiths' is a crisp, concise little tale. Whitlam has been and gone to China by page 50, Griffiths starts an assessment of the aftermath of that visit as early as page 62, and the copious notes begin no later than page 79. Brevity might, in part, reflect the fact that this monograph sits on the foundations of earlier appraisals, by Whitlam himself, Graham Freudenberg, Stephen FitzGerald, Ross Terrill and Laurie Oakes. FitzGerald's re-visiting of the trip, in a paper for the Whitlam Institute (another monograph, if you like), is especially atmospheric and regularly quite funny as well. Griffiths leaves to FitzGerald an anecdote about the Chinese hosts asking whether a member of the party was actually Chinese.
In a country still lacking first-rate biographies of many of its prime ministers, Whitlam's 1971 trip may seem ever so slightly over-done. Any judgment like that would reflect just how much remains to be done in Australian history writing, especially in the re-evaluation and re-visiting of the incidents that mattered most. Nonetheless, for Griffiths, the 12 days in July comprised ''a defining event in Australia's cultural, political and diplomatic re-orientation towards Asia''. Even if, ''in the international context it appears more judicious than radical'', Whitlam's gamble represented ''a bold step'' in and for Australia, which has entered ''into the leaves of legend''.
Griffiths fills in the context for Whitlam in 1971 fairly well, ranging back to the 1954 ALP split, then on to Australian stereotypes about yellow perils and red menaces. The 1966 election campaign could have warranted more attention in discussion of how to mobilise phobias, stereotypes and prejudices. Griffiths is also alert to small but engaging detail, including one charmingly daggy photograph of Whitlam's group on the Great Wall, with one wearing a particularly silly hat and two others sporting shorts with long socks. He also attributes the debut of Whitlam's bouffant hair to the fact that he could not purchase his usual styling cream in China. Brylcreem's loss was fashion's gain.
The centrepiece of The China Breakthrough is Whitlam's one extended discussion with premier Zhou Enlai, in ''a grand room with crimson carpet and opulent chandeliers'', and, much more critically, in the presence of the media. Despite Griffiths' considered and rounded exegesis, there may still be more to say about some pivotal aspects of that exchange. The obvious point of comparison is with Henry Kissinger's minutely observant and richly allusive commentaries on his discussions with Zhou, first in his memoirs and latterly in On China. No commentator comes off well by comparison with those passages.
Nonetheless, and to be fair to Griffiths, Kissinger's versions are - in the nature of things - one-sided. Telephone transcripts record the emotions and intensity of both sides to the call. Rival records or memoirs may redress imbalances. Griffiths does fairly well in trying to parse what was in Zhou's mind as he spoke to Whitlam and to a wider audience as well.
Griffiths bats on, assessing more context again in his examination of what happened next: Whitlam's foreign policy, ANZUS and Australia's re-orientation towards Asia. The most winning of his anecdotes may be the note that prime minister William McMahon, after bagging Whitlam as having been played like a trout, later inquired whether he could accompany Richard Nixon to China.