Kate Jones drops billion-dollar Games bombshell
Cancelling the Gold Coast Commonwealth Games would have cost taxpayers more than $1 billion, estimates hearings have revealed.
Commonwealth Games Minister Kate Jones tabled legal advice she said the Newman government sought in October 2012 about axing this year's Games.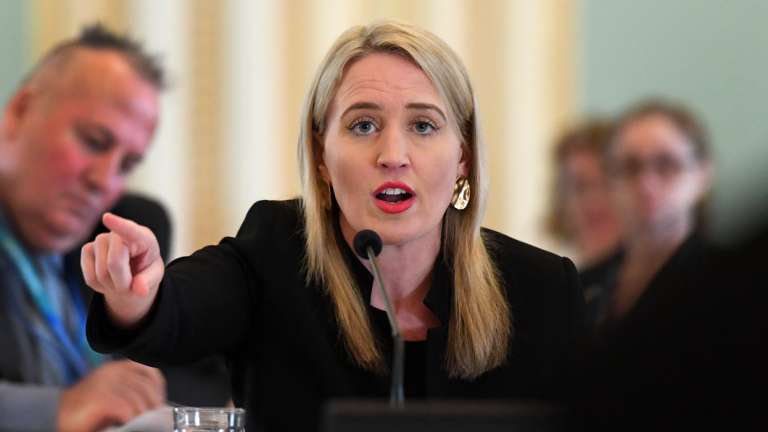 "The advice that Mullins Lawyers provided at that time was that such an order would do immeasurable damage to the standing of the state of Queensland and the Gold Coast and the host city," she said.
"The damages that would be forced to be paid by the state, if the Commonwealth Games had been axed, would be in excess of $1 billion."
The legal advice said the damages would include unpaid payments to the Commonwealth Games Federation and "the cost of hosting the Games elsewhere to a similar standard".
Ms Jones said the legal advice was also asked to consider the cost of moving the Games from the Gold Coast to Brisbane.
In May, Ms Jones said the Newman LNP government had sought legal advice about ditching the Commonwealth Games.
However, at that time, former premier Campbell Newman said he had no memory of any discussion: "It's so long ago."
Ms Jones said the Commonwealth Games, which cost $1.2 billion, delivered a multi-billion injection into Queensland's economy.
Opposition Commonwealth Games spokesman John-Paul Langbroek said the LNP sought advice on "all kinds of issues" so taxpayers would not be stung.
"When the LNP came to government in 2012, we found that the Games were completely unfunded by the Bligh government and that the then federal Labor government was refusing to fund its fair share," he said.
But Ms Jones the Commonwealth Games were fully-funded in the budget.
Meanwhile, Commonwealth Games Department director-general Damien Walker confirmed retention payments were part of the contracts for five GOLDOC staff, organised under the LNP.
Payments of about $160,000 for two executives have been approved, while the total amount was expected to be $600,000.
Ms Jones said those retention payments were being assessed but there was an expectation they would be paid.
"Contracts are structured with retention payments to help ensure key staff remain to complete delivery of the Games and that's critical," Mr Walker said.
"The eligibility for such a retention payment is conditional on the achievement of all key performance indicators."
Those KPIs included ticket sales, delivering the Games on budget, delivering the opening and closing ceremonies, transport planning and robust anti-doping.
Ms Jones said only two executives had received retention payments and the others were being finalised.
There were 5000 tickets unsold for the closing ceremony but GOLDOC chief executive Mark Peters rejected a suggestion parents of volunteer performers should receive free tickets.
"What about the athletes' parents? What about former medallists who requested free seats? What about community groups who have done exceptional work in their communities who wanted free seats? There's a whole group of people who want free seats to the Games," he said.
Ms Jones urged the Commonwealth Games Federation to rethink the closing ceremony. The Gold Coast closing ceremony broadcast did not feature the athletes.
"Do you even need a closing ceremony in a formal way or should we have an informal celebration acknowledging the athletes?" she asked.
Meanwhile, in a colourful outburst, Ms Jones accused LNP MP David Crisafulli of not writing to her since being appointed opposition tourism spokesman after the November election.
Mr Crisafulli had asked for specific details of how many extra beds eco tourism would deliver over the next 12 months or three years.
"There is quite a large allocation for eco tourism ... $11.7 million through the Department of Environment," he said.
"How is it that we can fulfil this joint vision we have of eco tourism in this state when that same department has no KPI to increase overnight beds, overnight stays in our national parks?
"All I've heard from you is rhetoric... I'd just like details, I've asked for KPIs."
Ms Jones replied that she did her homework before estimates.
"Let's talk about KPIs, I would think that a pretty basic KPI for a shadow minister would be to actually write to the minister about an issue if you've been there for six months," she said.
Holding aloft green folders labelled "HART", "JPL", "KRAUSE" and "Crisafulli", Ms Jones went on the attack.
"So Hart's written to me, JPL's written to me lots of times - he's a hard worker - Krause got dumped for Crisafulli as the shadow minister for tourism and he's written to me more times than old mate," she said.
"Since Crisafulli's been the shadow minister for tourism, zero, so poor old mate here, the member for Beaudesert, he got dumped for this guy and he still writes to me more than this mate."
Mr Crisafulli tried to interject: "I am across the detail. See? Minister, I, minister, you're wasting time, you're wasting time, I would just like you to answer, I would just like you to answer this question."
The 2018 Commonwealth Games were held, primarily on the Gold Coast, in April this year.
Felicity Caldwell is state political reporter at the Brisbane Times