'National Sword' cuts deep into Australia's recycling industry
China's 'National Sword' restrictions on recycling has left an estimated 1.25 million tonnes - or 20 per cent - of Australia's recycling with nowhere to go, and councils facing tough decisions.
As the world's largest manufacturer, China was until recently accepting more than 30 million tonnes of waste from countries across the world every year.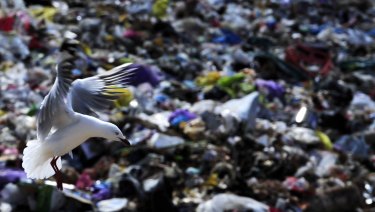 But this year, China began to enforce strict restrictions on imported waste, under a policy known as 'National Sword'.
The ramifications are hitting home in councils across Australia, including Ipswich, which announced it was dumping all of its yellow top bin recycling into landfill as a contractor wanted $2 million extra, which would have caused a 1.5 to 2 per cent rate rise.
Late on Friday, Ipswich Mayor Andrew Antoniolli said the council would hire a short-term contractor so it could resume recycling.
But the Local Government Association of Queensland warned other councils would follow suit, with the state's largest 34 councils facing cost rises of $40 to $50 million per year.
However, New South Wales and Victoria may be able to avoid tipping recycling into landfill, as they have state waste levies. Queensland has not had a waste levy since 2012.
Australian Local Government Association president David O'Loughlin said China's recycling ban was having an immediate impact on most councils in NSW and Victoria and some in South Australia.
Cr O'Loughlin said it would likely have an impact on rates, with an estimated 20 to 30 per cent of the nation's recycling looking for a new home.
"It will have an impact on every council in the longer term," he said.
Cr O'Loughlin said in NSW, Victoria and South Australia, it was more expensive to send recycling to landfill due to the state government levies, meaning it was unlikely but "still possible" that non-Queensland councils would follow Ipswich in dumping recycling.
Queensland Deputy Premier Jackie Trad announced she would bring forward the introduction of the state's waste levy from July 2019, but has not named a date.
Cr O'Loughlin said stockpiling of recycling should not be encouraged because of fire risks, and toxic fumes from burning plastic.
Municipal Association of Victoria chief executive Rob Spence said he did not expect his state's councils to start dumping recycling because of its landfill levy.
"[In Victoria], it's still marginally cheaper to run the product through a recycling system then it is to put into landfill," he said.
In February, Fairfax Media reported council rates in Victoria were likely to rise by 1.1 to 2.5 per cent as a result of China's ban, although Mr Spence said he thought rises would be closer to 1 per cent, or $50 extra per year.
Mr Spence said Victorians were committed to the recycling system and there was not a lot of community push-back about an increase in costs.
"The cost per household will be about a dollar a week to cover the change in price in the recycling model," he said.
Mr Spence said the country was at the beginning of a national restructure in recycling, where products would increasingly be recycled domestically, rather than being sent to China or Indonesia.
"As Paul Keating would have said, this is the shock we had to have," he said.
Mr Spence said Victorian contamination rates were about 10 to 20 per cent, while China had imposed a 0.5 per cent contamination limit on waste imports.
A Local Government NSW spokeswoman said recycling would likely cost households a bit more than $15 per household extra per year, depending on councils' transport costs and existing arrangements for sorting and processing.
"China was our biggest market for recyclables, and councils are facing far higher recycling costs," she said.
"To maintain the viability of kerbside recycling, it is likely councils will have no option but to increase waste collection fees."
The spokeswoman said she understood some councils may be stockpiling recycling as a short-term measure, within planning and regulatory controls.
Waste Management Association of Australia chief executive Gayle Sloan said she hoped other councils did not move to dump recycling in landfill.
"We recognise that there's going to be a short-term impact while we readjust what we do in Australia, but in the longer term we hope that no other councils will go back to the dark ages of land-filling," she said.
Ms Sloan said the impact would be about $40 to $50 per household, but she said recycling was about more than the cost, with the industry supporting more jobs and reducing reliance on fossil fuels.
"Recycling supports 9.2 jobs for every 10,000 tonnes that is recycled, whereas you only have over two jobs [2.8 jobs] for throwing products away," she said.
Recycling is at the top of the agenda for next Friday's meeting of state and territory environment ministers with federal Environment and Energy Minister Josh Frydenberg.
Felicity Caldwell is state political reporter at the Brisbane Times