Cathy McGowan has told a court that Sophie Mirabella didn't physically push her but revealed there was an "embarrassing situation" at a photo opportunity in regional Victoria in the weeks leading up to the 2016 federal election.
The Indi MP, who until now has refused to tell her side of the story, told Wangaratta County Court on Tuesday she saw Mrs Mirabella place her hands on the chest of Aged Care Minister Ken Wyatt as Mrs Mirabella tried to prevent Ms McGowan and the minister from being photographed together.
Mrs Mirabella, a former Liberal frontbencher who lost the seat of Indi to current MP Ms McGowan in 2013, is suing the Benalla Ensign for defamation after an article in 2016 which claimed she pushed Ms McGowan.
Ms McGowan said the ''difficult situation'' occurred on April 15, 2016, when she asked for a photo with Mr Wyatt  at the opening of a Benalla nursing home's new wing.
''Mrs Mirabella didn't want the photo taken, put her hands up to stop it happening, impeded it from happening. It was a very embarrassing situation,'' Mrs McGowan said.
''She put her hands on his chest to stop him moving towards the plaque.''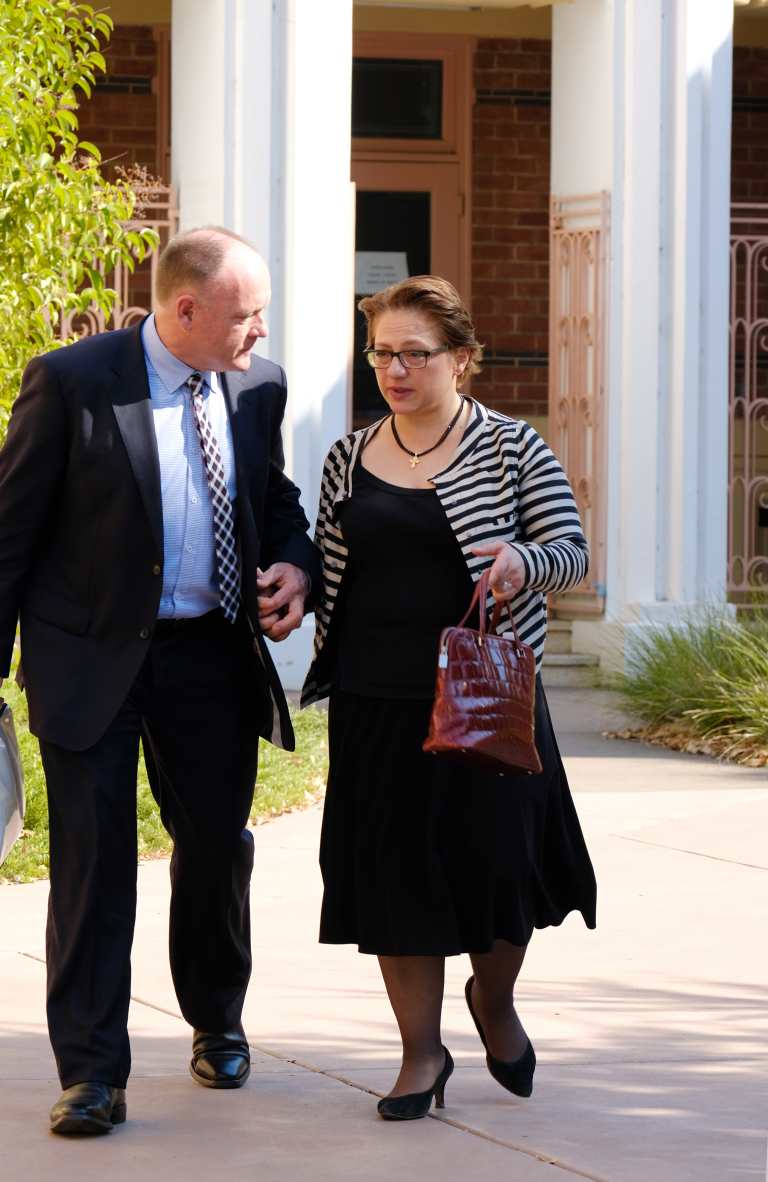 Mrs Mirabella could be seen shaking her head as she heard the evidence.
Barrister Georgina Schoff said the story contradicted the evidence of Mr Wyatt, who had said he was not near Ms McGowan when Mrs Mirabella put her hands on his chest.
Ms McGowan said it was true the Benalla Ensign article, which claimed Mrs Mirabella pushed her, was factually incorrect.
Journalist Libby Price claimed at the time the MP was her first source for the story and had said Mrs Mirabella ''pushed in'' to prevent the photo.
''I certainly spoke to Libby Price and I can't, in any way shape or form, remember saying that. I'd be surprised if I said that,'' Ms McGowan told the court.
She said she spoke to the journalist on the night of the incident and told her ''an altercation happened, I don't want to talk about it, can I leave it at that?''.
Ms McGowan did not contact Ms Price after the story was printed.
''I did not think it was my responsibility as a candidate to be monitoring the accuracy of the media in the North East electorate,'' she said.
Also on Tuesday, Mrs Mirabella's husband Greg Mirabella told the court that his wife "just broke down, she wept, she just put her head on my chest and wept,'' after she read the Ensign story.
''When Sophie came home that night, she was shattered, she barely slept.''
Mrs Mirabella always had a reputation as a politician who got things done, but one day their eight-year-old daughter came home and shared something her friend told her at school.
She said her friend's mother had called Mrs Mirabella a ''bitch'' because ''mummy punches people''.
Mr Mirabella told the court he had never shared this story with his wife before and she could be seen in tears hearing it for the first time.
He said she was worried the story would tarnish her legacy and she again had trouble sleeping in the weeks leading to this court case, becoming a ''Netflix addict''.
The case continues.