Victorian Nationals leader Peter Walsh has taken a swipe at Barnaby Joyce, who maintains he is the "elected deputy prime minister of Australia", accusing him of showing disrespect and dragging down the team before the federal election.
In rare public criticism of his own party's mechanics, the veteran Nationals MP said people were "just shaking their heads at the moment" about damaging infighting that has flared between Mr Joyce and federal Nationals leader Michael McCormack, fuelled by debate over the future of coal-fired power plants.
Tensions within the Nationals boiled over this week after Mr Joyce called on the federal government to back a coal-fired energy plant in Queensland.
He also infuriated many of his Coalition colleagues by describing himself as the "elected deputy prime minister of Australia" even though he was forced to quit that post after having an affair with his former media advisor.
Mr Walsh told ABC radio in Melbourne that Mr Joyce had failed to repay the respect he was shown when he led the Nationals before quitting last year.
"Barnaby Joyce had the support and the respect of his colleagues and the party when he was deputy prime minister and he owes that to the current deputy prime minister," Mr Walsh said.
He urged Mr Joyce to work as part of the Nationals team and back the deputy prime minister rather than publicly criticising Mr McCormack.
"A team is always greater than the individual and I think someone should take Barnaby aside and explain that to him."
The Nationals' deputy leader Bridget McKenzie escalated the tensions besieging the junior Coalition partner, declaring Mr Joyce is "frustrating" Australians with his freelancing on energy policy.
Senator McKenzie dismissed Mr Joyce's call for the government to go to the election promising a new government-backed coal-fired power plant in Queensland, insisting he was out of touch with his colleagues despite six Queensland MPs also declaring their support.
"What Barnaby Joyce is saying publicly is very different to what the party room is saying," Senator McKenzie told reporters in Melbourne on Tuesday.
"What we are agreed on is that we do need to back a neutral approach, a technology neutral approach to getting reliable, baseload power into our energy system."
The civil war over coal power has torn deep lines of division through the Coalition amid a state election campaign in NSW and just two months before the federal election.
Prime Minister Scott Morrison trashed the idea on Monday, arguing it would never be approved by the Queensland Labor government and he was interested in the art of the practical, "the things that actually can happen".
Asked whether the Nationals' dispute was about coal's place in Australia's energy mix, Mr Walsh said as a Victorian MP he was distant from those discussions.
But he stressed the federal government should not invest in a new coal-fired power plant.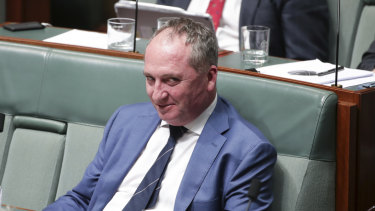 "If private enterprise doesn't think it's attractive to invest, why should government do it?"
Mr Walsh conceded his position was at odds with some of his Queensland Nationals' colleagues but said "so be it".
On Monday My Joyce angered Liberals who believe his push for coal-fired plant in Queensland could make it harder for them to hold their seats.
"[The Nationals] are not married to the Liberal Party and we are a party," Mr Joyce said.
Mr McCormack hit back with a remark that hurt Mr Joyce with a reference to marriage.
"I understand what it takes to have a successful marriage and to make sure that we work together to build a better Australia," Mr McCormack said.
Mr Walsh said vast differences had now emerged between Victorian and Queensland Nationals in their beliefs about how an affordable and reliable power mix should be achieved.
"I don't normally comment on federal political issues but I feel today I needed to because I think there is that gulf there ... and I need to put Victoria's point of view to your listeners."
Mr Walsh said the Nationals had taken an "technology agnostic" energy platform to the November state election, despite in 2017 calling for the development of a high efficiency low emissions coal power station to help replace the shuttered Hazelwood power plant.
He also suggested the Queensland Nationals had failed to heed a wake-up call after the Coalition's thumping state election loss in Victoria although he was unsure how much they followed Victorian politics.
"But they seem to be on a journey of their own I suppose is the politest way of putting it."
He also backed Mr McCormack's leadership and insisted he was doing a good job leading the party before the federal poll.
Benjamin is a state political reporter
Michael Koziol is a political correspondent for The Sydney Morning Herald and The Age.