Chinese telco to pocket $80 million in fees from controversial WA rail contract
A Chinese telecommunications giant awarded a $136 million contract to build a 4G radio and data network for Perth's passenger trains will collect an additional $80 million in maintenance fees, the government revealed in parliament on Tuesday.
In answers to questions asked in WA's upper house, Transport Minister Rita Saffioiti said a total of $205.7 million would be paid to Huawei and its joint venture partner UGL to design, build and maintain for five years the high-tech communications system.
She also did not rule out using the Huawei-built network, which would include the construction of 80 mobile towers along the city's rail corridors, for a future automatic train control system.
The government was considering using it for a public emergency messaging system, Ms Saffioti revealed.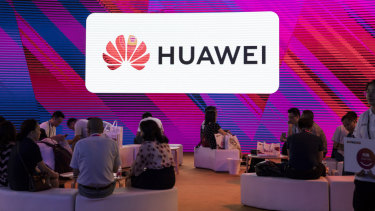 This is despite the federal government barring Huawei from National Broadband Network contracts because of national security concerns and the United States congress last week banning government agencies from using its products.
However, Ms Saffioti said both the automatic train control and emergency messaging projects were in the early stages of "concept development".
"Various emergency service agencies are developing future proprosals for public safety messaging," she said.
"Use of the train radio system infrastructure is a possible option among many other options but this proposal is in early stages of development by other agencies."
Shadow Transport Minister Liza Harvey said the opposition was concerned the Huawei contract had never been considered by Cabinet or the Expenditure Review Committee.
She said the government had not been up-front about what the system would ultimately be used for and had not answered important questions about governance concerns relating to the contract.
"Originally the tender was for the communications system to be involved in an automatic train control system and also an emergency communications system," Mrs Harvey said.
"But since the public scrutiny from media outlets and from the opposition around what the contract involves, we've now had the government back away from any uses other than it being a mobile communications network for PTA train drivers.
"Yet now we find on further questioning that there is consideration of expansion of the uses of these mobile towers into areas that the Department of Home Affairs and other security agencies have specifically raised concerns about."
Ms Harvey said the government had refused to answer questions about who made the decision "to deliberately avoid Cabinet scrutiny".
In parliament last week, Premier Mark McGowan said the state government had been told by ASIO and the Department of Home Affairs on three occasions there "were no security concerns" with awarding the contract to Huawei.
A spokesperson from the Department of Home Affairs said the Critical Infrastructure Centre, which manages national security infrastructure risks such as sabotage, espionage and foreign coercion, did not comment on particular cases.
"It is a matter for state and territory governments who they award contracts to," the spokesperson said.
Nathan is WAtoday's political reporter.