Australian diplomat returned from posting after husband charged over child-sex allegations
One of Australia's top diplomats has returned early from an overseas posting after her spouse was arrested and charged with child sex offences.
The Department of Foreign Affairs and Trade has confirmed that Jane Hardy ceased duty as Australia's ambassador to Spain on November 3, 2014, less than two years into what would normally be a three-year appointment.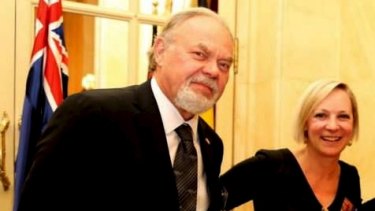 A DFAT spokesperson declined to answer Fairfax Media questions about the precise circumstances leading to the ambassador's return to Australia, only saying Ms Hardy "returned by mutual agreement with the department."
However it is a matter of public record that the Australian Federal Police arrested Ms Hardy's husband, artist Vytas Kapociunas, on September 20, 2014, in relation to an allegation of sexual intercourse with a child outside Australia.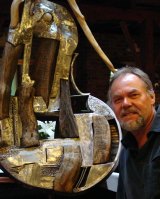 Mr Kapociunas, now aged 71, appeared before the ACT Magistrates Court in Canberra on October 3 in relation to one charge of sexual intercourse with a child outside of Australia. Two additional charges of sexual intercourse with a child outside of Australia were laid against Mr Kapociunas in December. He has pleaded not guilty to all three charges.
The sculptor and painter first came to police attention after the girl told her mother that she had a secret to tell her.
"I need to tell you a secret," the child said, according to court documents. "I think Vytas really likes me, because he keeps kissing me."
The AFP say the mother questioned her daughter further, and the girl allegedly said: "He kisses me on the lips, and here," pointing to her groin.
The mother contacted the AFP who opened an investigation and interviewed the girl.
Mr Kapociunas was informed of the allegations on September 17 and was met by AFP officers at Canberra Airport three days later. He agreed to an interview in which, according to police, he acknowledged he had met the girl three times and had physical contact with her including kissing. However he denied he had committed any child sex offences, saying he was "unsure" why the girl would say such things. He was then arrested.
Born in Lithuania in 1943, Mr Kapociunas studied at the South Australian School of Art and spent his early post-graduate years in Spain, France and Britain . He married Ms Hardy in 1982 and accompanied her on diplomatic postings to Kuala Lumpur, Seoul, Washington DC and most recently Madrid. In 2008 his sculpture Passage through Fire was exhibited at the Australian embassy in Washington.
Ms Hardy's identity and position were subject to a temporary court suppression order, now no longer in force.
DFAT has emphasised that "no allegations of inappropriate or illegal behaviour" have been made against Ms Hardy who assumed duty as ambassador to Spain in January 2013.
"Ms Hardy performed creditably in her role in Spain and, following her return, has taken up a suitably senior position in Canberra," a departmental spokesperson said.
DFAT's organisation chart shows Ms Hardy is now in charge of the department's arms control and counter-proliferation branch.
Her executive assistant told Fairfax Media she is not currently in Canberra and cannot be contacted.
A new ambassador to Spain has not yet been appointed.
Mr Kapociunas's solicitor, Chloe Preston, declined to comment. His case is listed for a further procedural hearing in the Magistrates Court on January 15.