Australian Public Service devoid of policy? 'Crap', says MP Stuart Robert
Turnbull government minister Stuart Robert has described a recent report saying the federal public service lacked serious policy making ability as "crap".
A Quarterly Essay by Laura Tingle published a week ago quoted two former Treasury bosses who said decades of government outsourcing and waves of senior redundancies had left much of the nation's public service unable to provide proper and effective advice to politicians and their voters.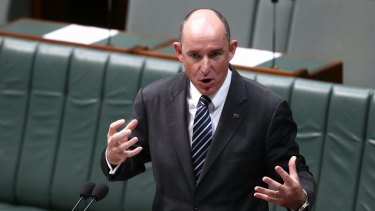 Martin Parkinson, tipped to become Department of the Prime Minister and Cabinet secretary, and Ken Henry warned that both the abilities and corporate memory of the bureaucracy have been dangerously degraded.
Mr Robert, veterans affairs and human services minister, opposed those thoughts at the Institute of Public Administration Australia's prime minister's awards for excellence in public sector management.
Giving a speech to a room full of public servants at the National Portrait Gallery, Mr Robert outlined the extensive public service experience racked up by staff in his and the prime minister's office.
"The majority of my staff either have a career public service or military background," he said.
He said the new Australian Defence Force superannuation scheme was an example of deep policy development coming out of the federal public service.
ADF Super for the first time allowed defence force members to join the superannuation fund of their choice while also giving them access to a default military super fund and in doing so fixed a longtime grievance of the veteran and ex-service community - the lack of flexibility and portability of a member's superannuation benefit.
"The public service and my [Veterans Affairs] Department did it all and it was outstanding."
"It wouldn't have been done without a dedicated public service."
As a minister overseeing two departments, Mr Robert said he wanted to start a "shared services" revolution.
He will be helped on his mission by the fact he oversees Human Services, the government's largest non-uniform organisation which wields powerful economies of scale with its more than 30,000-strong workforce.
Shared services is where functions common to a number of agencies - such as payroll, accounts payable and grants processing - is done by one agency.
For Mr Robert the revolution would start with services shared between DHS and Veterans Affairs but he said shared services would continue to become more popular across the APS.
"No department will remain an island," Mr Robert said.
He said the bureaucracy must ask: "Can another department do what we're delivering better?"
The Tasmanian Department of Education took out the gold award on the night with its information education initiative.
The judges said it was a powerful tool that directly facilitated improvement in student performance and was a "game changer" for Tasmanian Education.
There were three silver awards which went to IP Australia for its regional patent examiner training program, the Department of Communications and the Arts for its restack program and retune campaign and the Great Barrier Reef Marine Park Authority and the Queensland Parks and Wildlife Service for its joint field management program for the Great Barrier Reef.
In a letter read out at the ceremony, Prime Minister Malcolm Turnbull said public administrators needed to "take risks and be prepared at every stage to challenge the way we did things yesterday".
The awards are designed to honour the achievements of public sector work groups, units and teams rather than individuals.
IPAA ACT president Glenys Beauchamp said: "I am delighted to see the calibre of entrants for the awards and, from organisations across the Commonwealth, state and territory public sector.
"IPAA is proud of these awards, which provide an opportunity to showcase excellence, innovation and collaboration in public administration."
Phillip Thomson is a Public Service Reporter at The Canberra Times.