Hot desking hub should be built for public servants in Gungahlin: community council
A hot desking hub could be built in Gungahlin to allow public servants to take advantage of the area's super high speed internet.
A report prepared by a University of Canberra team shows the average worker in the ACT and region spends 40 minutes commuting to work every day.
The report, Smart Work in the ACT and Region was commissioned by the ACT and Southern Inland sections of Regional Development Australia, to promote telecommuting.
"Smart work [is] the new way to work that recognises ... that the value of work is measured by what we do irrespective of where we do it," the report says.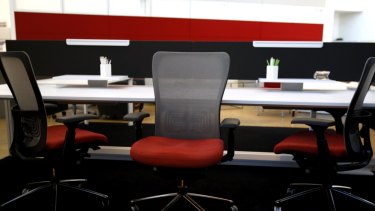 "Smart work is a beneficial, logical and marketable proposal for the ACT and region."
The Gungahlin Community Council says ACT and Federal Government public servants should be able to work at a hot desking hub in Gungahlin from time to time, rather than go all the way to the city or southside every day.
Council president Peter Elford says the installation of the NBN in Gungahlin allows people to work from home.
However, in some situations employers are reluctant to allow employees to work from home and some documents are not allowed out of the office.
"One alternative to people working from home or coming all the way to the office, is they come to another office much closer to where they live," he said.
"The idea would be that we'd have some ACT or federal government office in Gungahlin that's not necessarily unique to any particular department but anyone in the Gungahlin region could come to those offices and work from those work centres for a period of time.
"But if they needed to go to the office or have a face-to-face meeting, they could go into their usual office ... you'd have a more flexible working arrangement."
The light rail from Gungahlin to Civic would be operational by the time the hub was established.
Gungahlin was granted early access to the NBN by the federal Labor government because of the inferior telecommunications infrastructure installed when the suburb was built.
Residents were given fibre-optic cable to the home, which delivers internet at faster speeds than fibre to the node - a cabinet in the street - the system adopted by the Coalition government.
While most of Gungahlin has been wired for superfast NBN, one part of Casey was forgotten.
Last year the Industry Department started a trial to allow more of its staff to work from home.
Dr Richard Hu from the UC faculty of business, government and law, who worked on the report, said Gungahlin was identified as a town centre with strong potential for piloting a smart work facility or hub, with its exponential population growth and super-fast NBN connectivity.
The report says the capital region has a strong base for teleworking.
"It has a highly educated workforce, a knowledge-based economy and higher rates of internet connection and usage compared to other states and territories," it says.
"The average worker in the ACT and region spends approximately 40 minutes commuting 35 kilometres to work every day.
"More and more people are turning to smart work in the ACT. In 2006-11, the number of smart workers increased by 12 per cent.
"The smart worker clusters in the ACT are primarily in the areas of Gungahlin, and to a lesser extent Tuggeranong and Weston Creek."
Crace and Casey have the highest concentration of "smart workers" in the ACT.
"Smart work hubs should be integrated with, and alongside, public transport and road corridors within the designated areas for greater accessibility of both public and private transport users," the report says.
"A smart work hub in Gungahlin would be able to provide an environment which stimulates a high level of professional activity but also supports innovation across all areas of the community.
"Queanbeyan and Yass in the surrounding region demonstrate smart work hub potential, with a significant number of trips to work inside the ACT border originating from these adjacent regions.
"A smart work hub in Yass would potentially attract users from surrounding towns and villages such as Boorowa, Tumut and Young."
Ross Peake is a senior reporter for The Canberra Times