National Archives of Australia staff off to Cuba to restore historic documents
Most travel packing includes perhaps a little sunscreen or the latest novel, but for two Canberra conservators, their luggage to Cuba will contain far more interesting items.
The two experts from the National Archives of Australia will have the tools of their trade at the ready when they work to preserve documents in Cuba that range from 355 to almost 470 years old.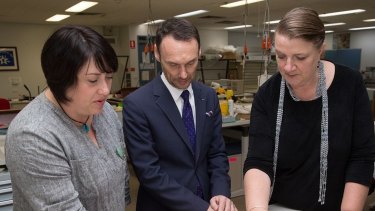 The conservators, Cheryl Jackson and Prue McKay, have been enlisted to help the Office of the City Historian in Havana, Cuba to conserve and preserve historic iron gall ink documents that date from the period 1550-1661.
Iron gall ink, which includes iron salts, has been in use for many centuries but fades with time, jeopardising collections worldwide.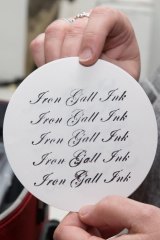 Packed in the Canberra conservators' bags ready for take-off on Monday are supplies from special tweezers to pH indicators; Stanley knives to pencils and erasers.
And there's been "lots of paperwork" to make sure the can take the items on a plane and into Cuba.
The archives holds many documents written in iron gall ink, including the Pitcairn Island Register, 1853-1881, which is undergoing intensive conservation treatment in the preservation lab in Canberra.
Ms McKay over time, the ink started to breakdown.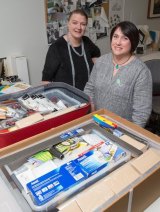 "The ink will start to eat away at the paper and cause it to fall apart," she said.
The items, most probably historic planning documents, were likely to have been previously stored in old buildings in tropical conditions with high humidity - a perfect storm for their deterioration.
"It' s amazing they have survived as long as they have," Ms McKay said.
But there was a saving grace.
"Being 16th century items, the paper is likely to be good quality, probably pure cotton or pure linen, which is great," Ms Jackson said.
The pair will only have six working days to pass on their knowledge, working with translators to impart their technical expertise to their Cuban colleagues. But they are up for the challenge.
"We're just so excited," Ms McKay said.
The Cuban Office of the City Historian is funding the technical assistance and acquisition of supplies with a grant from the Council on Australia Latin American Relations.
COALAR was established by the Australian Government in 2001 to enhance Australia's economic, political and social relations with Latin America.
The archives is also well placed to provide assistance as its expertise was recognised in 2011 with the Jikji/UNESCO Memory of the World Prize for contribution to the preservation of the world's documentary heritage.