Public service's 100,000sqm of empty space in Canberra: BIS Shrapnel report
Australian taxpayers are spending $40 million a year on empty offices in Canberra as the national capital faces a dire warning its commercial vacancy rate could decline further to become the worst nationally.
Canberra's record amount of vacant office space could become so bad that a fifth of the commercial leasable area across the city might soon be vacant, a major property analyst says.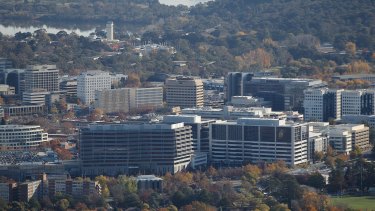 The end of federal public service job cuts and a slowdown in developers building new commercial blocks would not fix the nasty problem, according to BIS Shrapnel.
Its Canberra Commercial Property 2015 to 2025 report conservatively estimated the Commonwealth was paying for 100,000 square metres of vacant space spread across federal public service buildings in the ACT.
This empty space - equivalent to 10 soccer fields and enough for more than 7000 workers - comes at $400/sqm and is costing taxpayers as much as $40 million a year, according to a Fairfax Media analysis using commercial rental rates.
Much of this empty space will gradually be offered on the market as Finance Minister Mathias Cormann and his department consolidated vacant lease space to save money as part of Operation Tetris.
Property expert Christian Schilling from BIS Shrapnel said Canberra already had one of the highest office vacancy rates in the country.
But an ugly part of the picture was disguised by Commonwealth leases still held over unused space.
"The 500 pound gorilla in the room is the large surplus of space carried by Commonwealth agencies after the severe job cuts over the past three years," Mr Schilling said.
"Some 8000 public service positions have been lost in Canberra.
"Only a fraction of the space they occupied has been handed back to the market."
It is believed the Finance Department has already identified 30,000 square metres of surplus space it wants to fill as part of the "Tetris" project.
On Wednesday Senator Cormann said the department was working with major office suppliers to find out what space would become available in the next few years and hinted at expanding the consolidation project to Commonwealth leased buildings across Australia.
"We recognise the legacy issue we inherited on coming into government, which is why we initiated Operation Tetris," Senator Cormann said.
"We expect Operation Tetris will significantly improve value from our property leases by improving the efficiency of property management arrangements across the federal public sector, initially across the ACT."
BIS Shrapnel allowed 15 square metres for each of the 8000 territory-based bureaucrats who had left the public service in recent years which created 120,000 square metres of empty space.
It is a conservative estimate because some Commonwealth agencies have offices allowing for several more square metres per staff member.
"Some of that [120,000 square metres] has been released, but between 70,000 and 100,000 square metres of surplus space is still being carried — and paid for — by the Commonwealth," Mr Schilling said.
"Depending on the time frame, releasing the entire 100,000 square metres could see the metropolitan vacancy rate move dangerously close to 20 per cent," Mr Schilling said.
The office market vacancy rate in Canberra increased over the past six months to its highest level on record, according to the Property Council of Australia's latest office market report.
Canberra's office market vacancy rate increased from 13.6 per cent reported in July 2014, to 15.4 per cent over the six months to January 2015 - the second worst in Australia and only marginally better than Brisbane which reported vacancy rates of 15.6 per cent.
Phillip Thomson is a Public Service Reporter at The Canberra Times.