Queen's Birthday honours: Finance Department's Jane Halton leads way for women
The most powerful female public servant in Australian history has finally caught up to her decorated father – but one suspects her latest honour won't be her last.
Jane Halton, the formidable chief of the federal Finance Department and dean of the bureaucracy's leaders, has been made an officer of the Order of Australia.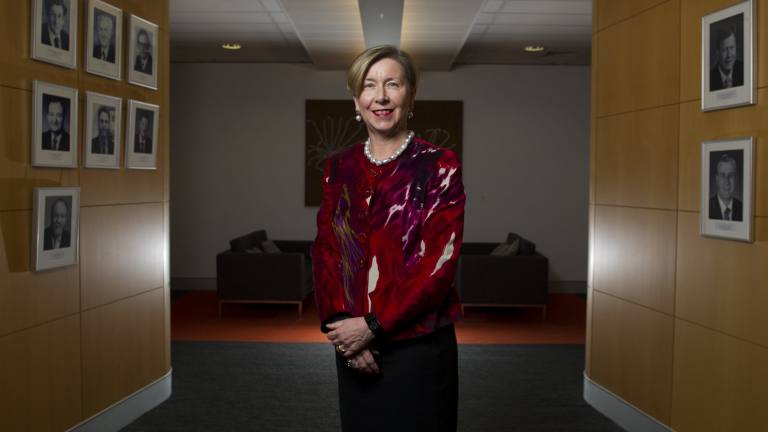 The honour is roughly equivalent to that her late father Charles (also a department head) received: he was a commander of the Order of the British Empire. Her grandfather, too, was a member of the same order.
"Unfortunately, my father died 18 months ago. But I think he might have been tickled pink by this," she said of the gong.
Ms Halton is one of 28 residents of Canberra and the surrounding region to receive a Queen's Birthday honour.
Other new officers of the Order of Australia include her colleague, Department of Social Services head Finn Pratt; University of Canberra emeritus professor Peter Taylor, a passionate advocate of maths education; and former Liberal MP Gary Nairn, the long-time member for Eden-Monaro.
Vietnam veterans' rights campaigner Graham Walker is one of nine people from the region to become members of the order, while 14 received medals of the order, including David and Helen Wheen, cited for their volunteer work in Rwanda, and arts journalist Helen Musa.
Ms Halton's honour may be continuing her ancestral tradition, but her achievements are about far more than her and her family: she is a closely watched representative of women who aspire to be leaders.
She was the second woman to become a federal department head – 17 long years after Helen Williams was appointed in 1985 – but the first to lead a central agency, such as Finance.
The 55-year-old fitness fanatic, and mother of two, says she is "extremely conscious" that some women see her as a role model, and accepts that with pride.
"I know that other people look and say, 'OK, she's a woman, she has children, she managed to get into a position like that.'
"I don't necessarily think every day 'I can't let women who are aspiring to promotion and opportunity down' but I am very conscious that, as the first person in this context, people do watch."
The Australian Public Service could do more to help women progress, Ms Halton says; for example, she has previously pressed male staff to become more involved in caring for their children.
But workforce data shows that change is under way. "There are a cohort of women coming through. That wasn't the case when I became a secretary."
Back then, in 2002, only 16 per cent of the federal bureaucracy's deputy secretaries (the tier below the top) were women. Today, that has climbed to 36 per cent, while five of the 18 secretaries (plus one acting) are women.
Everyone who reaches the APS's uppermost echelon is an exceptional talent.
But senior parliamentarians from both sides of politics agree on the reason for Ms Halton's success. "She'll tell you're wrong and why you're wrong without hesitating," one former Labor minister says, adding her "old-style frank and fearless" approach was in surprisingly short supply, even among secretaries.
Ms Halton says experience had taught her that directness was the best way to lead and to advise.
"I have a reputation for being, if you're going to be diplomatic, forthright," she says.
"But there is a difference between people who are just blunt, and blurt out whatever they are thinking, versus ensuring that the message you want to transmit is heard."
Public servants, who are regularly criticised as overly risk-averse, need to tell ministers plain truths, she says.
"I don't expect my advice to always be taken. But my job is to ensure that the people taking the decisions are well-informed and have thought through, as carefully as they can, the issues that surround whatever that decision might be.
"I have a very firm view about no surprises. Because ultimately we want government to make the best decision."
Markus Mannheim edits The Public Sector Informant and writes regularly about government.