The agile bureaucracy: we need adaptive, innovative public servants who see beyond the routine
Coming challenges will demand more from government employees.
Agility might not be the first thing that comes to mind when people think of the Australian Public Service. But now, more than ever, we need an APS composed of agile employees.
Agile employees are flexible, adaptive and innovative. They work well with people and are customer-focused. They understand it is better to embrace change rather than resist it.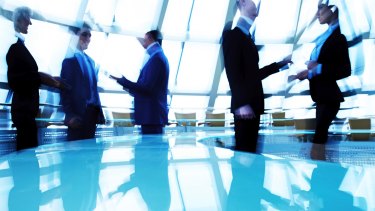 Significant challenges are on the horizon that demand an agile response. Digital technology, an ageing population and workforce, reducing red tape and budget repair are prominent among the challenges.
The APS has regularly adapted to challenges throughout its history and will do so again. The challenges present many opportunities both to improve the delivery of services and to create exciting jobs for staff.
Australians want services from government with similar features to those they receive from the private sector: fast, online, personalised, competitively priced and open to feedback.
A key focus for me is to ensure that the APS employment framework supports and promotes the development of an agile workforce. I see three key areas that require innovation to achieve this.
The first is recruitment. A recruitment exercise should be completed in a timely manner. It should be straightforward. The objective is to enable rather than obstruct our ability to attract the best and brightest.
It is a fundamental requirement that the merit principle be adhered to. However, we must be mindful that the merit principle's application is not overlaid by excessive process. The underlying objective is to find the best person for the job.
The self-imposed red tape that some employers have created, such as extensive selection criteria, overengineered interview processes and elaborate reports can compromise efficient recruitment. It can take three months or more to run the full course. The best people for any position might not wait this long for a job.
The second area for attention is the mobility of staff. The capacity for rapid deployment of staff is critical. Once in the APS, it should be easy for employees to move within and across APS agencies, and to and from the private sector.
Exchange programs with the private sector will be beneficial. Public servants will gain a more informed appreciation of the operating demands of business and the effect of government decisions and regulations on the competitive edge so many firms need to maintain.
A development that will be associated with improved mobility is the more flexible use of staff. I expect that the APS will be more creative in the use of the various modes of employment, such as part-time, casual, fixed-term, contractor and labour-hire employment. The employment modes can enhance agility by augmenting the backbone of an agency's permanent ongoing staff to meet fluctuating and sometimes urgent needs.
A third area for attention is leadership and talent development. Many APS employees are called on to demonstrate leadership. It is not just chief executives and their senior staff.
The challenges the APS faces mean continuous attention will need to be paid to leadership. The APS will need leaders who have a broad perspective and see the big picture. They will need to be open to learning and discovery, and embrace new ideas for delivering policy and program outcomes.
The issues confronting government are becoming more complex and so a capacity to deal with ambiguity and uncertainty will be valued. The community rightly demands a lot of government. Accordingly, APS leaders will need to engage constructively with the community and business.
It is also important that APS leaders be people who are decisive and resilient. Consultation is often required but it can be overdone. A leader must know when it is necessary to take a decision and get on with it. This may mean that not everyone agrees with the course of action and will be critical. Good leaders can cope with contested or critical views.
The Public Service Commission is taking a number of important initiatives, as are many agencies, to realise the leadership potential that the APS holds. This will be augmented by making it easier to introduce talented people from outside the APS.
John Lloyd is the Australian Public Service Commissioner.