The end of veterans' affairs: will Anzac Centenary Minister Stuart Robert be too busy to bother?
The government seems to have accepted it no longer needs a 'minister for the RSL'.
When I worked in the machinery of government area of the old Public Service Board, an unwritten rule was that no combination of functions or tasks was impossible, provided the minister concerned was up to the job. Some ministers were expected to – and did – wilt under a light load of responsibilities while others thrived regardless of what their prime minister threw at them.
These issues arise again in the wake of the recent ministerial reshuffle: while Michael Ronaldson, the previous minister for veterans' affairs and minister assisting the prime minister for the centenary of Anzac, also had the job of special minister of state – mostly a doddle – the new holder of the veterans' affairs and Anzac jobs, Stuart Robert, is also Minister for Human Services, which makes his workload altogether different.
Veterans' affairs ministers since 1976
Before there were veterans' affairs ministers, there were ministers for repatriation continuously from 1917 to 1976, except during the Bruce-Page government from 1923 to 1929. Then there were 15 veterans' affairs ministers from October 1976 until Robert took up the job in September this year. The terms of the first six of these ministers covered 16½ years to March 1993. They simultaneously held other jobs (as assistant or junior ministers in other portfolios) for only one-third of that time (about 5½ years). So, for most of that period, veterans' affairs ministers were able to focus solely on veterans' needs.
The Keating government brought change. Veterans' affairs minister Ben Humphreys was also minister for northern Australia from May 1992 to March 1993. Humphreys' successor as veterans' affairs minister, John Faulkner, was also minister for defence science and personnel, holding both the defence and veterans' jobs from March 1993 to March 1994. Faulkner was replaced by Con Sciacca, who held the veterans' affairs job for two years until the defeat of the Keating government. Sciacca, too, had an extra job, though only for the final five months of his tenure, as minister assisting the treasurer for superannuation.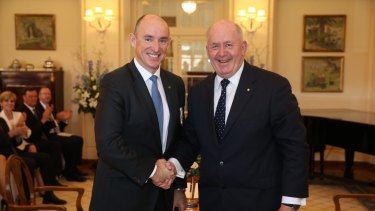 Veterans' affairs ministers in the 1990s clearly were being expected to do more. This can be linked to the decline in the number of veterans as the men and women of the world wars aged and died. Around this time, the Department of Veterans' Affairs began to move into the commemoration and education fields. It was looking for a new role, though it took 20 years for this to be reflected in the Administrative Arrangements Order.
These changed expectations carried through to the seven veterans' affairs ministers who held office from March 1996 to September 2015: all of them, at some time, simultaneously served in other roles. The table below shows that, over those 19½ years, veterans' affairs ministers held other jobs for 13½ years, or just over two-thirds of that period. These ministers were expected to dual-task, though their extra jobs were almost always in the defence portfolio, which had obvious links with veterans' issues. (Here, we bundle the post-2011 role of minister assisting the prime minister for the centenary of Anzac with that of veterans' affairs minister.)
A turning point?
So what's changed for Stuart Robert, the new Minister for Veterans' Affairs and Minister Assisting the Prime Minister for the Centenary of Anzac, and for the people who have expectations of the minister in those roles? Is Robert's extra responsibility for human services merely a continuation of a common pattern of the last two decades? No, it isn't.
First, his other job is not in the defence portfolio. (He had previously served as assistant minister for defence for two years.) More importantly, Robert, in human services, will be responsible for a complete department, not just for a piece of a department or portfolio, as was the case with his recent predecessors, apart from Ronaldson. In each of these instances, the common practice would have been for the senior portfolio minister, the defence minister, to specify, usually by letter, which parts of the portfolio the junior minister would handle. It would have been possible to temper the load to the junior minister's capacity and even to adjust it from time to time as workloads changed. This is not the case with Robert: the human services job is his and his alone.
Robert's most recent predecessor in veterans' affairs, Ronaldson, did have another job that was neither in defence nor as big as human services. This job, special minister of state, burgeoned for a while with the fallout from the bungled Western Australian Senate election but then slipped back to its usual fairly quiet state, waiting for the next election. The brouhaha over the then House of Representatives speaker's travel extravagances may have meant work for public servants in the Finance Department but most of the political heavy lifting fell to the then prime minister, Tony Abbott, rather than the responsible minister. In his two years in office, Ronaldson had plenty of time to travel to France and Turkey to oversee Anzac centenary arrangements, to visit towns and suburbs to hand out commemorative grants and to make bloodthirsty speeches to RSL conferences about the martial responsibility of children. He put out media statements at the rate of two or three a week, a good proportion of them reporting commemorative activity.
What does this mean for the Anzac centenary?
So Robert has human services. Or perhaps it is more accurate to say human services has him. The Department of Human Services includes the massive bureaucracies of Centrelink and Medicare, plus smaller programs in aged care, child support, hearing services and other areas. It currently disburses about $165 billion a year in payments. It claims it touches the lives of almost every Australian, so it has about 25 million clients. It has about 34,000 staff in 400 service centres across the country, under the leadership of a secretary and six deputy secretaries. Its organisation chart, showing senior staff, includes over 150 names and is printed in more than 20 colours in an attempt to improve comprehension.
By contrast with the human services behemoth, veterans' affairs is a boutique operation. The Department of Veterans' Affairs has about 2000 staff delivering $12 billion in benefits a year to about 320,000 clients. While its staff are less likely to be an industrial relations problem than those in human services – staff at Centrelink and Medicare have been on strike recently – they are more likely to need to deal with well-organised and vocal pressure groups complaining about service than are their counterparts in human services.
Commemoration has had a high profile in the Department of Veterans' Affairs for the past five years, though the department spends less than 1 per cent of its budget on it. While governments of both colours have pursued commemoration initiatives and spending on the basis that the public expects this activity – "It's what the bogans want," in the words of a senior departmental official – it would be interesting to see how a representative sample of Australians would prioritise "military commemoration" against, say, "services to veterans" and "efficient medical benefits and employment services". Commemoration offers photo opportunities for politicians but one suspects public support for it may be "a mile wide and an inch deep" – rather like attitudes to Christmas, another sentimental and nostalgic cultural marker.
These are the sort of considerations that a busy minister, as Robert is likely to be, will need to weigh up as he allocates his time – and then reallocates it as he responds to matters requiring his hands-on attention. Such matters are more likely to arise in human services, because of the size and spread of the task there, than on the non-commemoration side of veterans' affairs, and more likely to arise on the non-commemoration side of veterans' affairs than on the commemoration, including Anzac centenary, side. Taking part in Anzac centenary activities may leave a warm glow among administering public servants and members of the public but they may need to become an optional extra for a busy minister. (Nonetheless, Robert made a quick visit to Europe around Remembrance Day.)
Beginning of the end of the veterans' affairs portfolio?
Giving Robert the human services job with its potentially heavy workload, may indicate the attitude of new Prime Minister Malcolm Turnbull to the relative importance of the veterans' affairs job, including the commemorative aspects that have justified that minister having the extra "centenary of Anzac" handle since 2011. Turnbull may think that, after the peak during 2015, the intensity of commemorative activity (and the political pay-off) will necessarily diminish, requiring minimal ministerial attention. This Prime Minister also seems less starry-eyed about military things than was his predecessor.
Giving the veterans' affairs ministry another, potentially much larger, role may even foreshadow that veterans' affairs has a limited future as a stand-alone ministry. It is more than five decades since the then minister for repatriation, Reg Swartz, agreed that calling him "the minister for the RSL" was "a reasonable description". But the RSL is a far less powerful and less representative organisation today than it was in 1963; the staying power and spruiking skills of veterans' affairs portfolio officers, rather than the RSL link, is surely the main factor keeping veterans' affairs going today as a separate entity. (Within the portfolio, the chairman of the Council of the Australian War Memorial, Ken Doolan, a 76-year-old retired rear admiral, is also the RSL national president. This is more noteworthy as a potential conflict of interest than as a lever of RSL power.)
There are, on the other hand – and have been for many years – bureaucrats in the departments of health, human services and social services who would willingly take over pieces of the Department of Veterans' Affairs that do similar work. There are also bureaucrats in the Education Department who might like to take on veterans' affairs' successful history education funding model and extend it to other areas. Commonwealth funding of education in military history has long been an anomaly compared with its funding of other strands of history.
That would leave the commemoration functions of the veterans' affairs portfolio to be redistributed. Defence does some commemoration work already and could do more. It could also take on the Office of Australian War Graves, since it has a role in creating the need for them. Under the same logic, the War Memorial, long regarded as the jewel in the veterans' affairs portfolio crown, could go to defence also, where the memorial's current director, Brendan Nelson, was once minister. Alternatively, the memorial could return to the arts portfolio, where it was 30 years ago. The portfolio location of the War Memorial ultimately depends on whether the government of the day sees it as part of the defence establishment – with sentimental commemoration of past wars potentially boosting recruitment for new ones – or as a cultural institution.
Ronaldson often reminded his listeners that we are commemorating not only the Anzac centenary but also a century of service by our defence forces. This justifies events remembering the end of the war in Europe and in the Pacific, the Battle of Long Tan in Vietnam, the Battle of Kapyong in Korea, and so on. World War I commemoration is about not just the Gallipoli landing but also Lone Pine (poorly attended, as it turned out), Pozieres, Fromelles, Beersheba and other battles, leading up to the opening of the $100 million Monash interpretive centre at Villers-Bretonneux in 2018. The then minister clearly envisaged an active future for himself, with lots of travel, and plenty for his department to do. Whether the workload persists and the departmental name on the letterheads remains the same is, as always, a matter for governments. They may feel it is time for new directions rather than a continuation of the status quo.
Conclusion
It is possible that Robert is superhuman. He is an ex-serviceman (mostly in military intelligence and security) and he is nearly two decades younger than his predecessor. While human services always carries the potential to require close ministerial involvement, particularly if its massive workforce becomes stroppy or if rorts are alleged, in some respects it is just a massive computer spitting out cheques. Run sensitively, with occasional crises successfully overcome, it has far more potential than veterans' affairs to build ministerial reputations, as Robert's predecessor, Marise Payne, found. Turnbull, announcing Payne's promotion to defence, noted "she has spent two years in the human services portfolio and has done an outstanding job in modernising government service delivery".
In the non-commemoration areas of the Department of Veterans' Affairs, too, there are potential hot spots and insistent pressure groups that will require ministerial attention but which will bring kudos if dealt with competently. Damping down these eruptions while wrangling human services may mean that ministerial trips in the Anzac centenary role to the green fields of France or the stony hills of Palestine – for the events that Ronaldson was wont to rattle off in his speeches – may become less common and ministerial speeches to RSL conferences more perfunctory. Such changes would help reduce Anzac to a more proportionate place in our national psyche. Robert could turn necessity to considerable advantage for all of us.
David Stephens is secretary and website editor of the Honest History coalition, which supports the balanced presentation and use of Australian history, particularly during the Anzac centenary. This article does not necessarily represent the views of all of Honest History's supporters.