Thousands of public service casuals thrown Labor lifeline
Thousands of public servants working casual shifts at Centrelink and Medicare will be given a pathway to permanent jobs if Labor wins the election.
The opposition's plan to improve Centrelink's performance includes $75 million to reverse years of staff cuts, which Labor says have much to do with the welfare agency's notorious customer service woes.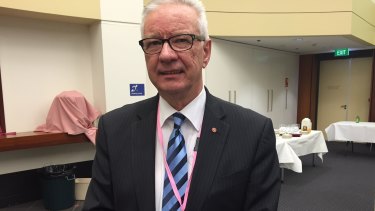 The giant Department of Human Services, which runs Centrelink and Medicare, has been under pressure for several years over Centrelink's customer service standards, phone waiting times and online access.
DHS was slashed again in the the 2016-17 budget with more than 900 workers to be shed in this financial year and will have its funding reduced by $100 million year on year, thanks in part to a "special" efficiency cut of $20 million a year.
Labor's Human Services spokesman Doug Cameron, an outspoken critic of the agency's performance, said a Shorten government would move quickly to tackle what Senator Cameron called the "neglect and incompetence" troubling the Commonwealth's largest department.
"Government neglect and incompetence and under-staffing at the Department of Human Services is causing terrible hardship to parents, students, the elderly and Australia's most vulnerable people," the NSW Senator said.
"Job cuts and an increase in casual employment has resulted in inexperienced and poorly trained casual staff who are concerned they are unable to provide citizens with the support they require."
Human Services has around 3000 public servants working casual shifts.
"Labor will take steps to reverse the increase in precarious employment in the public service by providing $75 million over four years in capped funding to convert casual employees into permanent employees, with access to appropriate training and support," Senator Cameron said.
The Community and Public Sector Union, which has also been critical of casualisation at Human Services, welcomed the Labor announcement and said up to 2000 casuals would be given hope of landing a full-time job under the plan.
"Thousands of DHS jobs have been slashed in recent years and thousands more experienced staff have been replaced with poorly trained casuals," the union's national secretary Nadine Flood said.
"The outcomes for customers have been disastrous, with massive delays and one in three calls to Medicare, Centrelink and Child Support going unanswered last year.
"We estimate over 2000 casual staff could benefit from the move from casual to permanent jobs.
"Right now, casual staff don't get access to the same level of training and support as permanent staff and they are frustrated they can't provide better help for students, families, pensioners and the unemployed."
Ms Flood said the Labor policy would result in higher quality services to millions of Centrelink clients.
"This move is also great news for DHS customers who will get better services as a result of better trained staff," she said.
"Labor has recognised what we've been saying for some time, that this casualisation of DHS workers is a false economy and is preventing customers getting the services they deserve.
"While the ALP is proposing solutions, the Turnbull Government has continued to cut with another 918 positions slashed in the recent budget."
Noel Towell is State Political Editor for The Age