ACC briefing shows 'scary' drugs issue in football codes
NSW Sports Minister Graham Annesley described a briefing he received from the Australian Crime Commission as ''serious'' and ''scary'' and revealed that investigators hoped the publicity would deter criminals from suppling players with performance-enhancing drugs.
Annesley, whose previous role was as the NRL's chief operating officer, joined other state sports ministers in Melbourne on Thursday night to learn the reasons for the 12-month investigation that has cast a pall over Australian sport.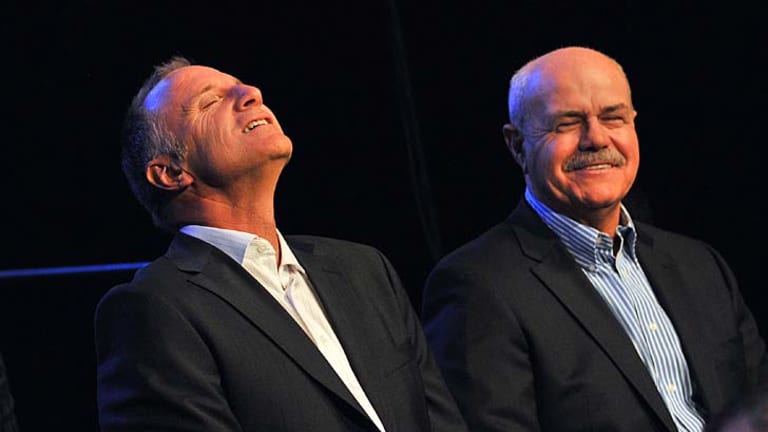 While many now feel the press conference headed by Federal Sports Minister Kate Lundy and Home Affairs Minister Jason Clare was over the top, Annesley said he was shocked by what he was told at the briefing with ACC representatives.
''The information I was given tonight was quite serious and scary in some ways,'' Annesley told Channel Nine. ''I am first to agree that not all athletes should be tarred with this brush but what was explained tonight is that there is a problem, particularly in the football codes, with both performance-enhancing drugs and illicit drugs, and that there are people moving within those circles promoting the use of these products.
''They are under surveillance, there has been evidence gathered and these investigations are ongoing.
''The ACC appear very confident that they have solid information and that information is continuing to be gathered, is being passed on to the relevant parties and they expect there will be action that will flow from that.''
Asked if the release of the ACC report would have tipped off criminal influences, Annesley said that was the intention.
''One of the reasons for going public last week was to let these elements that are in and around sport know that they are under surveillance and they should drop off before they can get their tentacles even deeper into the various sporting codes because they are not getting away from it,'' Annesley said. ASADA chief executive Aurora Andruska estimated that up to 150 players and officials across the codes would be interviewed as part of the investigations but she admitted that figure was only an educated guess.
''A lot of pressure has been put on me in recent times to try and come up with a number, particularly from the media, so I decided to come up with some number that was realistic with the information that I had at the time,'' she said.
''When I have come up with that number I have taken into account that we would need to talk to administrators and players and others that would be associated with whatever was going on so at this early stage of the investigation that is my best estimate.
''Having said that it could widen because I am reading things in the media about people admitting to taking performance-enhancing drugs that I was not even aware of.
''This investigation will take some time, it is going to be months not weeks because what we have is a lot of information and we have now got to get evidence in order to take an anti-doping violation forward against an individual.''
Penrith boss Phil Gould assured the club's fans that no member of the club's playing or coaching staff was under investigation.
''As the week has gone on and I have become more privy to the information that has started this report, there is nothing to back it up, from our perspective,'' Gould said.
''I can attest to all Penrith fans and corporate partners and members that the current playing roster and the current coaching staff at Panthers is not suspected under this investigation and has nothing to fear.''

Brad Walter is Sports Reporter for The Sydney Morning Herald
Morning & Afternoon Newsletter
Delivered Mon–Fri.